Happy Monday my book babes! With fall right around the corner, I thought it'd be the perfect time to share with you some thriller and mystery novels that I've loved or can't wait to dive into this coming fall season. Read more to check out these thrilling titles!
THE BREAKDOWN BY B.A. PARIS
"Cass is having a hard time since the night she saw the car in the woods, on the winding rural road, in the middle of a downpour, with the woman sitting inside―the woman who was killed."
After reading her debut novel earlier last year, I knew I had to get my hands on a copy of The Breakdown and after having finished it, I was left in awe at how Paris yet again wrote another fantastic thriller. Paris manages to make you feel paranoid and suspicious of everyone as you read her works and to me, that's the best feeling you can get while reading a thriller. Definitely a must-read for anyone who loves a good who-dun-it thriller!
FINAL GIRLS BY RILEY SAGER
"Ten years ago, college student Quincy Carpenter went on vacation with five friends and came back alone, the only survivor of a horror movie–scale massacre."
While I haven't had the chance to crack this one open just yet, it's definitely on my must reads list for the fall! I've heard nothing but raving reviews about Final Girls (even from Stephen King himself which is A+!) so I really need to see what all the hype about it is soon.
THE LYING GAME BY RUTH WARE
"On a cool June morning, a woman is walking her dog in the idyllic coastal village of Salten along a tidal estuary known as the Reach. Before she can stop him, the dog charges into the water to retrieve what first appears to be a wayward stick, but to her horror, turns out to be something much more sinister..."
Last year I also got the chance to read Ruth Ware's The Woman in Cabin Ten and I ended up really enjoying it. I've had The Lying Game, her latest work, on my TBR for some time now but I'm excited to finally get started on it soon. Can we just take a second to admire that cover though?! I absolutely love it and I know this one is going to be yet another great read from Ware!
HIDE AND SEEK BY M.J. ARLIDGE
"Prison is no place for a detective Helen Grace was one of the country's best police investigators. Now she's behind bars with the killers she caught."
If you've been following me for awhile now you know that I absolutely LOVE M. J. Arlidge and his Helen Grace thriller series. All of the books in the series have left me on the edge of my seat and I know the latest in this series will continue to do that for me. Can October get here any quicker, please?!
HE SAID SHE SAID BY ERIN KELLY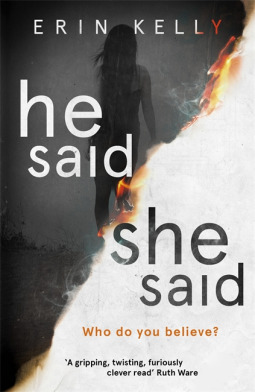 "In the hushed aftermath of a total eclipse, Laura witnesses a brutal attack. She and her boyfriend Kit call the police, and in that moment, it is not only the victim's life that is changed forever.."
After the total eclipse we just experienced, it's safe to say Erin Kelly's He Said She Said is at the top of my list! Because seriously, how perfect does this book sound after our very own total eclipse? I am sold! Totally bumping this one up to the top of my TBR!
Have you read any of these reads? Will you be adding them to your TBR if you haven't? Let me know down in the comments below!