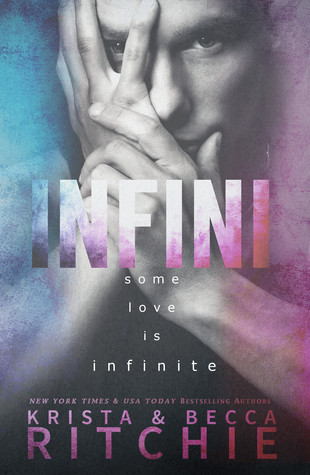 Title:
Infni
Author:
Krista and Becca Ritchie
Genre:
Contemporary, Romance, New Adult
Release Date:
January 31st, 2016
Publisher:
K.B. Ritchie
Some love is infinite. "Don't have a best friend that's a girl" — this was the advice from my older cousin. I didn't take it. Because he followed with, "friends don't f*ck friends. And you'll want to f*ck her." It was terrible advice. My cousin should've told me that being best friends with Baylee Wright — since she was twelve — would be the best and worst decision of my life. He should have told me to protect her from what was coming. He should have told me that when a darkness crawled towards us, there'd be no safety net. Now I've signed back on to the same Vegas acrobatic show as Baylee, working together for the first time in years. And she tells me that she's having trouble in a certain "area" of her life — because of our past. "You can help me fix it," she says. And then she hands me a list. Recommended for readers 18+ for mature content. Luka Kotova is introduced in Amour Amour, and Infini takes place in the same acrobatic world. However, it's not necessary to read Amour Amour prior to Infini.
Charming, exciting and magical, Infini was everything I was looking for. This book is the hot romance of the year that you won't stop gushing about with your reading pals!

Russian descent and born into the circus with his family, Luka Kotova is one of the youngest of the family. Under the care of his older brother, he tries his best to do what's right but it most of the time he feels like he can't. Baylee Wright, our heroine of the story, is also apart of the same circus and happens to be Luka's best friend.

After being caught breaking a company policy, Luka and Baylee are heartbroken and at a loss for words at the consequences. Four and a half years later, the company makes new changes and the two realize they are paired up in the same Infini show. After not seeing each other for almost five years, both characters don't know what to say or do; all they know is that the chemistry and love they had is still there.

After reading and loving Amour Amour, I was excited to have my hands on the next book. It always makes me happy to read the second or third book in a series and love it more than the first. Infini was everything I had hoped for and more. The Ritchie sisters truly know how to write a story that grips you from the first page - this book was full of passion, heart, angst, and love. It was an emotional, heartbreaking story for both Luka and Baylee, as well as for the entire Kotova family. My heart broke so many times as I read, especially as we got to know more about Luka and his backstory. (Yet another book boyfriend added to the list!!) Luka and Baylee were the perfect pair. They always made me smile whenever they were together and I loved the chemistry and banter between the two. Long story short, these two were made for each other and ugh, that ending captured my heart!

Throughout the book, I also loved how the Ritchie twins got to show us a side of the Kotova's that we didn't get to see in the first book and it all felt so real and as if you were actually there in the story yourself. Another thing that was A+ about this book was the side characters - I loved them just as much as I did Luka and Baylee! For those who have read the book, who agrees we need a book about Timo and John? I adored them in Amour Amour and would always have a smile on my face whenever they appeared. I'm also rooting for a book with Katya! I need a book with her as the main character ASAP! *heart eyes*

Charming, exciting and magical, Infini was everything I was looking for. This book is the hot romance of the year that you won't stop gushing about with your reading pals and I'm crossing my fingers so hard that there will be more to the Aerial Ethereal series!