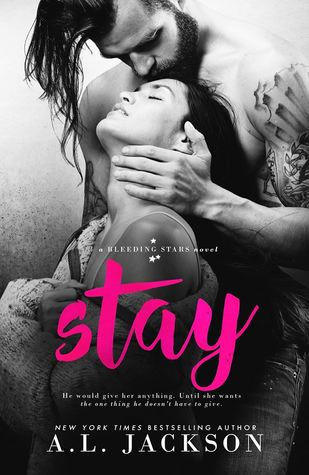 Title:
Stay
Author:
A.L. Jackson
Genre:
Contemporary, Romance, New Adult
Release Date:
January 23rd, 2016
Publisher:
Self-Published
I'm Ash Evans. The life of the party. Hot. Rich. Charismatic. A tattooed rock star with the world at my feet. I burn through women faster than the strike of a match. I've embraced my lifestyle and live it to the fullest. Until the day my lifestyle caught up to me. Willow Langston found me at my lowest. Literally. Facedown in a puddle of my own blood. I owe her my life and I have three months to repay that debt. What I never should have done was touch her. Kiss her. Take her to my bed. Love wasn't supposed to be a part of the equation. I gave up that nasty complication a long damned time ago. Now I want her more than my next breath. But she doesn't know what I know. Do I leave to protect her? Or can I face my demons and ask her to Stay?
"There was a storm of words brewing on the pages of Stay and I could not for the life of me, tear my eyes away."
Ash is the happy, easy going guy of the Sunder band and with his band mates all setting down, he's ready for some relaxation time in Savannah. But Ash spends his downtime with the wrong crowd and they show him just how much he isn't welcomed; that's when he meets Willow. Later on, Ash decides to give her a visit to show his appreciation to her. Both Willow and Ash connect with each other immediately and Ash realizes that she's a little damaged; just like him. Even though the chemistry between them is burning up, Ash swore off the complication of love. But Ash wants her more than ever - will he stay or will he leave the woman that makes him come alive in every way?
"We rarely know when our lives are about to change. When the direction we have been traveling to will shift. When the stagnant comfort we've cut out for ourselves will take a sharp turn south, or when everything we know will come to an abrupt, excruciating end."
A.L. Jackson certainly has a way with words - as much as I wanted to take my time with this book, to enjoy every second of it slowly, I couldn't help but devour it in less than a day. There was a storm of words brewing on the pages of this book and I could not for the life of me, tear my eyes away. As I said before, Jackson has a way with words that pulls you in and burns you and you can't help but love it.
"A stranger who'd touched me without saying a word."
Our main characters, two broken, bleeding souls who so desperately needed each other to be whole again...these characters made my eyes well up with tears throughout the book. These characters were connected in such a way that you, the reader, was mesmerized by it all. Their chemistry, their emotions, and the way they connected so easily, were ablaze — a fire that wouldn't and couldn't be tamed.
Stay
was a sexy, heart wrenching story that left me reeling — with a storm of words that only A.L. Jackson can write, this book is something you can't miss.