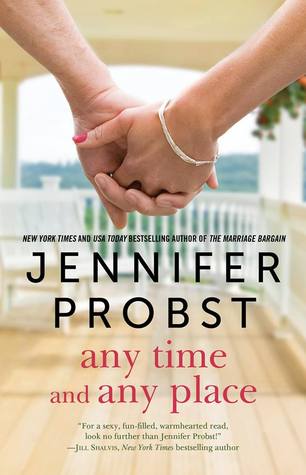 Title:
Any Time, Any Place
Author:
Jennifer Probst
Genre:
Contemporary, Romance, New Adult
Release Date:
January 24rd, 2016
Publisher:
Gallery Books
When she was a teen, Raven Bella Stratton's father was killed in a horrible car crash. The bigger shock was the discovery of a woman with him—Diana Pierce—and their two fully packed suitcases with airline tickets to Paris. Devastated by her father's betrayal, Raven went to live with her aunt, never truly overcoming the traumatic event. When she discovers that the mysterious woman had a family with a husband and three boys, Raven vows to leave the memory of her father behind. Until Dalton Pierce visits one night and suddenly her past challenges her future... Leaving his life in California behind to run Pierce Construction with his two older brothers, Dalton Pierce has enjoyed returning home and studying his passion of woodworking. But when he visits the local bar with his brothers one evening, he's immediately drawn to the smart-mouthed, badass, sexy bartender who sets his body on fire. Unfortunately, she doesn't seem as intrigued by him, and his multiple advances are met with rejection. When he offers to restore the bar back to its original glory, he begins to work with her on a daily basis, and falls harder. His plan of seduction slowly weaves a web around them both, until they are caught up in the spell. But Dalton doesn't know the secret that can either destroy them both...or finally mend two broken hearts.
Any Time, Any Place was yet another fabulous book from Probst and I'm highly anticipating the next in the Billionaire Builder series!
Raven Stratton was only a teenager when her father died in a car accident and to add salt to the fresh wound, she later finds out that he was fleeing to Paris with Dianna Pierce, a woman who was married to another man with three boys. Hurt and shocked by her father's affair, she went to live with her aunt to try and move on. Now she's all grown up and runs a successful bar. But she's missing one thing: love. She seems to find it in the man that swears off long term relationships; he also happens to be the youngest of the three boys of Diana Pierce.

Dalton Pierce is the youngest of the three Pierce brothers and he is a ladies man at best. After losing his mother in a car accident and finding out about the affair she was having, he recoils at the thought long term relationships or marriage. The only love of his life is his job. That all changes when he meets the gorgeous owner and bartender of the towns popular bar. No matter how many times she rejects his advances toward her, he can't stop thinking about her. There's a complicated past between the two that only one knows about and in the end it'll either destroy the relationship or fix two broken hearts.

I've read and loved the first book in this series but now after finishing the second one, I have to say that so far it's my favorite one! Jennifer Probst certainly has a way of drawing readers in with her perfect mix of angst, romance, humor and sexy scenes, something I also loved in the first book. This second book in the Billionaire Builder series had my heart aching as I read, watching an emotional and heart wrenching story play out on the pages and I couldn't put it down for one second. Probst wrote characters that you couldn't help but smile, tear up over and in the end root for.

Any Time, Any Place was yet another fabulous romance book and I'm highly anticipating the next in the Billionaire Builder series!