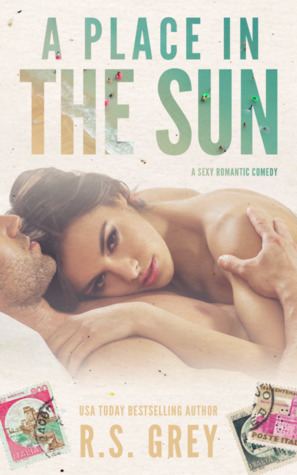 Title:
A Place in the Sun
Author:
R.S. Grey
Genre:
New Adult, Contemporary, Romance
Release Date:
October 24th, 2016
Publisher:
Self-Published
When her mother's incessant matchmaking hits an all-time high, Georgie Archibald does what any sensible woman would do: she flees the country. Seeking refuge in the picturesque seaside village of Vernazza, Italy, Georgie's only plan is to lie low, gorge herself on gelato, and let the wine and waves wash her troubles away... that is until she wakes up in a bed that belongs to the most romantic-looking man she's ever seen. Gianluca. After going out of his way to rescue her, the former London financier turned mysterious recluse makes it clear that despite acting as her white knight, he has no plans to co-star in her fairytale. But Georgie isn't asking for his heart—she's merely intrigued. After all, Gianluca isn't just gorgeous—tall and tan from days spent in the sun—his touch sets her world on fire. With him, Georgie experiences the most intoxicating passion she's ever known, and it only takes a few steamy nights for her to realize that sometimes running away from trouble is the best way to find it.
If you want a love story that will make your heart flutter, then go pick up this book - R.S. Grey will make you want to find your place in the sun after you put it down!
Georgie Archibald is in search for love. At the age of twenty-six, she's already being pressured by her mother's poor attempts at matchmaking. Enough is enough and Georgie decides that what better way to find love than to spin a globe and whatever her finger lands on is her next destination? Vernazza, Italy, here she comes...


On the first day of her arrival in the beautiful little town in Italy, Georgie passes out in the middle of the square. When she wakes, she see's that two handsome Italian men came to her rescue. There, she meets Gianluca. Georgie can't hold back her attraction for her Italian rescuer - he's beautiful in every way, shape and form and she wants to get to know him more.

Gianluca has been mourning the loss of his wife, so he keeps Georgie at a safe distance. But he can't help but be attracted to the wild, rambunctious Brit. As he spends more time with her, the chemistry between the two grow stronger. But will Gianluca be able to put the past behind him and open his heart up to something new?

Rachel never fails to make me fall in love with her words. She is one of those authors that you can't help but love every single one of her works. Her books always have a huge sense of love, humor, sexiness and happiness. They will always put a smile on your face, (and even the occasional blush from the sexy times!) and they never disappoint.

In this latest release of hers, she brought her characters to life in a way I've never seen before. She got to show readers the every emotion that her characters felt throughout the story and she made sure you felt it too. Georgie and Gianluca's story was absolutely beautiful and I honestly have no words. The writing was brilliant - it captured me from the first page to the last.

The characters were fun, charming, and enjoyable in a way that, after weeks of finishing the book, you can't help but want to read their story all over again. Out of all of Grey's characters, Georgie has to be my favorite. Fun, witty, hilarious, she was exactly the character that I wanted out of this story. Pair that up with the broody, handsome Italian man and you have one heck of a recipe! The romance between them was sizzling hot and I couldn't tear my eyes away! Definitely a book to be read again very soon!


A Place In The Sun was everything that I was looking for and more. Humor, romance, second chance love and a fresh breath of air. If you want a love story that will make your heart flutter, then go pick up this book up - R.S. Grey will make you want to find your own place in the sun after you put it down.