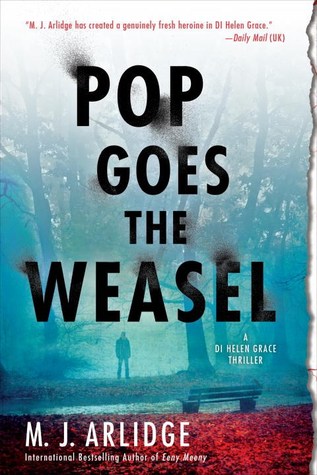 Title:
Pop Goes the Weasel
Author:
M.J. Arlidge
Genre:
Thriller, Mystery, Fiction
Release Date:
October 5th, 2015
Publisher:
NAL
A man's body is found in an empty house. A gruesome memento of his murder is sent to his wife and children. He is the first victim, and Detective Helen Grace knows he will not be the last. But why would a happily married man be this far from home in the dead of night? The media call it Jack the Ripper in reverse: a serial killer preying on family men who lead hidden double lives. Helen can sense the fury behind the murders. But what she cannot possibly predict is how volatile this killer is—or what is waiting for her at the end of the chase...
A gripping novel, POP GOES THE WEASEL is a thrilling read that will make the pages fly and leave readers biting their nails in anticipation!
Pop Goes the Weasel follows DI Helen Grace and her team as they are yet again facing off with another serial killer, but this time, the killer is even more brutal and violent than the last. With a twist on the unsolved Jack the Ripper case, a prostitute is out killing and torturing men in the most sadistic way possible. To make matters worse, Helen has gained new enemies -- not only does she have a serial killer loose on the streets but now she's facing off against a familiar face from the media and new uniforms in the police department. Bodies are continuing to pile up and Helen and her team need to act quick before another one is added to the list.
If you didn't already know, I loved the best-selling EENY MEENY and I knew right away that I had to pick up the next installment of the series. I'm not at all surprised to say that POP GOES THE WEASEL turned out even better than the first book! POP GOES THE WEASEL was such an addictive and fast paced read and I loved it more than I did the first, which, if you read my review and saw how I couldn't stop talking about it on Instagram, was a lot! Arlidge knows how to hook in a reader and keep them reading till they finish it in basically one or two sittings, which was the case for me. The writing was yet again fantastic and even though some parts of the book were gruesome as all Hades, I loved that Arlidge didn't miss a single detail in any of the scenes.
Helen Grace is still a bad ass and one of my favorite protagonists in the genre of crime fiction. She's fierce, she's smart, she dives head first into danger and she's flawed, something that I loved about her. We get to see multiple POV's in the story (which I won't say who about as to not spoil anyone) but my favorite POV would certainly have to be from Helen Grace.
Long story short, the Helen Grace thrillers are now one of my favorite crime fiction series and I can't recommend these books enough! POP GOES THE WEASEL was a fast-paced, twisted and thrilling read that will keep you on the edge of your seat and that was exactly what I needed! My next read will definitely be the next book in the series, THE DOLL'S HOUSE!
* To anyone who is curious if you can read POP GOES THE WEASEL without having read the first book: I highly recommend you read EENY MEENY before diving into POP. Arlidge discusses many times of events that happened in the first book and readers might find it confusing if they skip out on it. *
What are your thoughts on this series? Have you read it or will you be? What are some of your favorite crime fictions? Let me know down in the comments below!
Stay Bookish,