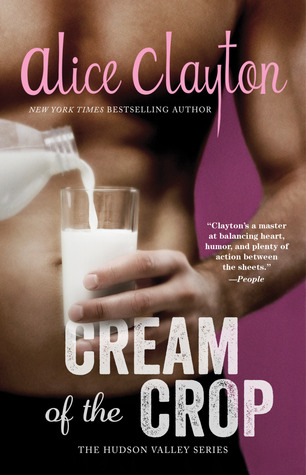 Title:
Cream of the Crop
Author:
Alice Clayton
Genre:
New Adult, Romance, Humor
Release Date:
July 12th, 2016
Publisher:
Gallery Books
Manhattan's It Girl, Natalie Grayson, has it all: she's a hot exec at a leading advertising firm, known industry-wide for her challenging and edgy campaigns. She's got a large circle of friends, a family that loves her dearly, and her dance card is always full with handsome eligible bachelors. What else could a modern gal-about-town wish for? The answer, of course, is...cheese. Natalie's favorite part of each week is spending Saturday morning at the Union Square Farmer's Market, where she indulges her love of all things triple cream. Her favorite booth also indulges her love of all things handsome. Oscar Mendoza, owner of the Bailey Falls Creamery and purveyor of the finest artisanal cheeses the Hudson Valley has to offer, is tall, dark, mysterious, and a bit oblivious. Or so she thinks. But that doesn't stop Natalie from fantasizing about the size of his, ahem, milk can. Romance is churning, passion is burning, and something incredible is rising to the top. Could it be...love?
With the perfect mix of romance, humor and food, Cream of the Crop will make your heart flutter and leave you smiling hours after you finish reading!
Cream of the Crop, the second standalone in the Hudson Valley series, tells of Natalie, an all time city girl, who is confident about everything - her job, how she looks and everything else in life. She is the leading executive at an advertising firm, she has family and friends that adore her and not to mention, she turns heads everywhere she goes -- life is good for her and she's happy. But what really makes her heart flutter, is cheese. Every Saturday, Natalie looks forward to stopping by the Farmer's Market and picking up Brie from the quiet and handsome, Oscar Mendoza, the dairy farmer from Bailey Falls Creamery.
Even though they rarely talk, the attraction is burning up between the two and soon, an oppurtunity through work comes Natalie's way to take a trip down to Bailey Falls and she jumps at the chance. For Natalie, it's no trouble to get what she wants, but it seems that this dairy farmer has her twisted in a nervous wreck. Just as things are starting out, everything isn't going so great and they have to take a step back and ask themselves - are their lives too different for each other to work through?
As a fan of Alice's previous works, I was over the moon to hear about her latest release in the Hudson Valley series. Alice never fails to deliver funny and sweet sexy romances and I was counting down the days till I had this beauty in my hands and once I did, I devoured it in two sittings! The pacing of story was perfect, it never seemed too slow or too fast, but instead at the right pace. Alice's writing style was also another thing I adored. The descriptive details of the beautiful country just an hour away from the loud and busy streets of Manhattan, the banter between the characters, the smell and tastes of the foods -- Alice never failed at making sure to capture it all.
With our main character, Natalie, I was smitten with her just as I was with the backdrops of the story! She is undoubtedly one of the best characters I've read from Clayton. She's a size eighteen and it doesn't bother her at all, which I loved! She's sassy, she's confident and she's outgoing – but as we get to know her a bit more, we see that the outgoing and confident Natalie wasn't always her. I'll admit, I definitely got teary eyed as we learned more about her. To have gone through the humiliation and the pain that she went through, to have hated your body with a passion... it broke my heart to learn that about her. But, in the end, it made me happy to know that she moved on from that and became the sassy, confident and adventurous woman that I know others, as well as myself, loved.
With Oscar, it's really no surprise that I fell head over heels in love with him. Handsome, quiet and a smart ass, he won my heart over in a beat. Clayton has given us yet another book boyfriend to add to our ever growing lists. Oscar gives off the mysterious vibe – doesn't really strike up a conversation and tends to keep to himself most of the time. The chemistry between the two characters was quickly churning and at times I had to put the book down because of how intense it was! Long story short, I would definitely be happy with another story about these two!
If you've been needing the perfect contemporary read that is hotter than hot sauce, captures your attention from the first page and is funnier than all hell, pick up CREAM OF THE CROP! This book is A++++ from the first page to the last and I guarantee it won't disappoint!
Do you have a favorite contemporary novel? Have you read one of Alice's novels before? Let me know down below in the comments!