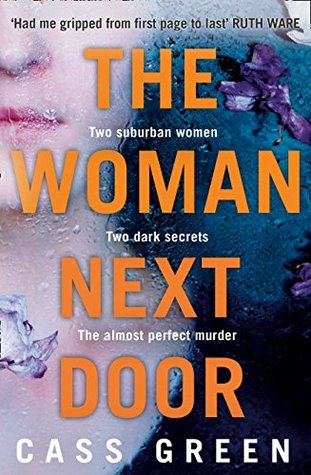 Title:
The Woman Next Door
Author:
Cass Green
Genre:
Adult, Thriller, Mystery
Release Date:
July 22nd, 2016
Publisher:
Killer Reads
Two suburban women. Two dark secrets. The almost perfect murder. Melissa and Hester have lived next door to each other for years. When Melissa's daughter was younger, Hester was almost like a grandmother to her. But recently they haven't been so close. Hester has plans to change all that. It's obvious to her that despite Melissa's outwardly glamorous and successful life, she needs Hester's help. But taking help from Hester might not be such a good idea for a woman with as many secrets as Melissa…
I am so excited to share a Q&A with Cass Green, the debut thriller writer who's novel, THE WOMAN NEXT DOOR, releases from KILLER READS in just a few days! Many thanks to Cass for stopping by the blog today for the interview! To learn more about THE WOMAN NEXT DOOR and the author herself, continue reading!
S&D: Your debut novel is being pitched as the perfect read for fans of HER by Harriet Lane and IN A DARK DARK WOOD by Ruth Ware. Can you tell us a little bit about how you came into the thriller genre? What inspired you to start?
CG: I'd written four young teen novels - all broadly thrillers - but when I decided to have a go at a book for adults I knew I wanted to write about someone who was always on the edge of things; who always felt like they were peering in through the window. I don't know why characters like this fascinate me, but they do! And so Hester was born…
S&D: I always love reading a good twisty psychological thriller book and yours sounds right up my alley. Can you tell us what kind of research went into THE WOMAN NEXT DOOR?
CG: I had to research all sorts of odd things, from car mechanics to what happens to dead bodies! But more than anything, I think my 'research' took the very enjoyable form of just devouring books in this genre. I've always loved books like this and so that was no hard task!
S&D: I know some authors tend to do this, so I'm curious if it was the same for you -- are there real people behind the characters in THE WOMAN NEXT DOOR?
CG: They really did come out of my own head, which is perhaps a bit worrying! I don't tend to base my characters on real people, mainly because making things up is more fun!
S&D: For as long as I can remember, I've always had a huge list of crime and thriller authors that I admired. Do you happen to have any favorites as well?
CG: Oh yes, loads. How long have you got?! I was a massive fan of the Barbara Vine books in the 1980s and 90s and I think they really were the precursor to today's trend for 'domestic noir' as some call this genre. I do love thrillers and in recent years my favourites have included Gillian Flynn, Erin Kelly, Julia Crouch, Elizabeth Haynes, Caroline Kepnes and Nikki French. I actually could go on for several pages here!
S&D: Now for the super important question...are you currently working on anything at the moment? If so, can you give us a little hint as to what it is?
CG: I'm having an absolute ball writing my latest one. The central premise is that a young woman called Neve is walking over Waterloo Bridge at 3am just before Christmas. She has just had a disastrous one night stand and all she wants to do is get home, even though 'home' right now is her sister's sofa bed. Her life is in a mess and she doesn't feel as though she is quite ready to grow up. When she sees a beautiful woman in an evening dress, shivering on the bridge, they start to talk. The other woman seems distant and strange, and after a rather odd, intense conversation, she hands Neve an envelope. Before Neve has time to react, the woman throws herself into the Thames, where she drowns. Neve is shocked and upset but early in the new year, she discovers the woman has left her cottage to her, under an unusual will arrangement. But when she travels to Cornwall to the cottage, she discovers this gift is not quite what she expected and her life is thrown into danger…
Cass Green is the adult pen name of Caroline Green, an award -winning author of fiction for young people. Her first novel, DARK RIDE won the RONA Young Adult Book of the Year and the Waverton Good Read Award. CRACKS and HOLD YOUR BREATH garnered rave reviews and were shortlisted for eleven awards between them, including: The Amazing Book Award; The Catalyst Book Award The Leeds Book Award; The Hampshire Book Award; Sefton Super Reads, the Oldham Book Award and The Stockport Book Award. She is the Writer in Residence at East Barnet School and teaches Writing for Children at City University. Caroline has been a journalist for over twenty years and has written for many broadsheet newspapers and glossy magazines.
CONNECT WITH CASS GREEN!
Stay Stylish & Bookish,