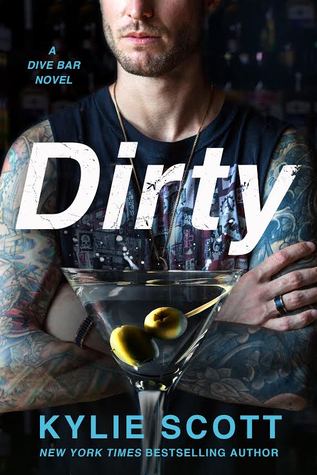 Title:
Dirty (Dive Bar #1)
Author:
Kylie Scott
Genre:
Romance, Contemporary, Adult
Release Date:
April 19th, 2016
Publisher:
St. Martin's Griffin
The last thing Vaughan Hewson expects to find when he returns to his childhood home is a broken hearted bride in his shower, let alone the drama and chaos that comes with her. Lydia Green doesn't know whether to burn down the church or sit and cry in a corner. Discovering the love of your life is having an affair on your wedding day is bad enough. Finding out it's with his best man is another thing all together. She narrowly escapes tying the knot and meets Vaughan only hours later. Vaughan is the exact opposite of the picture perfect, respected businessman she thought she'd marry. This former musician-turned-bartender is rough around the edges and unsettled. But she already tried Mr. Right and discovered he's all wrong-maybe it's time to give Mr. Right Now a chance. After all, what's wrong with getting dirty?
"Kylie Scott is bringing the heat in this new spinoff series! Down right hilarious, witty and sexy, this novel will have you devouring each page and tickled pink as you do!
Dirty tells of Vaughan Hewson, a musician who toured with the Stage Dive band in Scott's previous series. With Vaughan's band now broken up and having gone their separate ways, he decides to head back to his childhood home, one he's been avoiding for years. But the one thing he didn't expect to come home to was a stunning runaway bride hiding out in his bathtub.
On the day of her wedding, Lydia Green receives the shock of her life from her fiance's best man. Not wanting to face her family and his, she decides the best thing to do is run. High heels and all, she jumps over fences and through windows before she hides away in the empty house next door. Her pity party is ruined when a blast of cold water hits her and the owner of the house is no other than Vaughan himself standing there in nothing but his birthday suit. Vaughan and Lydia share a connection and soon they come up with the idea of working together to save the bar that Vaughan's sister owns. Both characters realize the chemistry they have toward each other is strong and burning, but both are going through a time of heartbreak. Can they really get through it and start a life with each other?
I luuvveddd this book. Full out, binge read, laughed out loud, loveddd this book. Scott has yet again outdone herself in this new spinoff series with one of my favorite side characters from her previous works and I couldn't be happier with how it turned out. Scott never fails to bring humor, sexy and sweet to the table and she wowed me from the very first pages!
With our characters Lydia and Vaughn, I don't think I've ever met a couple that I loved more than them! Lydia was witty, fun and a not so perfect character and that's what made me love her even more. It was refreshing to get to see a character that wasn't all that perfect. Lydia isn't the type to be hard on herself when things go south, but instead, she has a laugh about it and moves on, something that was really charming about her. With Vaughan, well, I already fell in love with him when we got to meet him in the fourth book of the Stage Dive series, so it wasn't difficult at all to fall for him all over again in this novel. Vaughan came off as the big bad wolf at times, but most of the time he was a huge softie that was full of humor and was sweet to everyone. At this point, I wouldn't mind another book or two with these two characters!
Basically, Dirty delivers on it all. From swoon-worthy and laugh-out-loud scenes to fantastic character development, everything about this first installment had everything I look for in a book and I can't express this enough: go pick this one up! You honestly won't regret it!
What are your thoughts on this novel? Read it or will you be? Let me know down in the comments below!
Stay Stylish & Bookish,