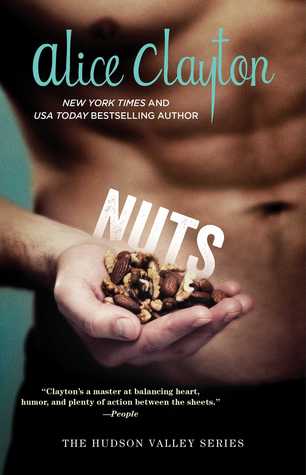 Title:
Nuts (Hudson Valley #1)
Author:
Alice Clayton
Genre:
New Adult, Contemporary, Humor
Release Date:
October 20th, 2015
Publisher:
Gallery Books
After losing almost all of her clients in one fell swoop following an accident involving whipped cream, private chef to Hollywood's elite Roxie Callahan gets a call from her flighty mother, saying she's needed home in upstate New York to run the family diner. Once she's back in the Hudson Valley, local organic farmer Leo delivers Roxie a lovely bunch of walnuts, and soon sparks—and clothing—begin to fly. Leo believes that everything worth doing is worth doing slowly…and how! But will Roxie stay upstate, or will the lure of West Coast redemption tempt her back to Tinseltown?


Alice Clayton is bringing it all out in her latest Hudson Valley series! With a funny cast, witty banter and plenty of spicy scenes, this book is not to be missed!
Nuts tells of Roxie, a chef that resides in LA where actors, actresses and other famous people love her and the dishes that she can whip up. She also loves her job and wouldn't want to be doing anything else in the world. Roxie soon receives a call from her mother asking her if she can run the family's diner for the summer while her mother goes off and does a reality show. Roxie reluctantly agrees and during her first week there, she walks straight into Leo, the handsome organic farmer that everyone loves and adores in the small town of Hudson Valley.
Soon they are spending the summer together and sparks start to fly. However, Roxie never intended to stay - just help her mom out for the summer and then head back to California on her merry way. But, things are changing now and she's getting the small town blues, and it might even have something to do with the gorgeous farmer that continues to sweep her off her feet. Get ready because things are about to get nutty!
After reading and loving Clayton's previous series called the Wallbanger series, I was giddy with excitement when I came across her latest release, Nuts. My love for her previous titles had me hoping that this book would live up to my expectations - and I'm pleased to say it did! In fact, out of all of her books, this one has to be my favorite! Clayton's writing style never fails to make put a smile on my face. This book is full of humor, fun banter between characters, a feisty relatable heroine and a hero that will sweep you right off your feet. Who doesn't love books that have all of those thing, right?
What I loved most about Nuts, however, were the characters! Roxie was a feisty and quirky main character that got me to literally laugh-out-loud through almost all of the book. Alice always seems to write characters that readers can easily connect with and I felt that way exactly when reading this book. With Leo...oh boy! Don't even get me started on our handsome farmer! From looks to personality, this man has it all! If you think I loved them when they were by themselves, imagine how much I loved them when they are together! Their funny banter always cracked me up which was one of the many things I loved about this novel. Not only was the humor a favorite of mine, but also the chemistry these two characters. In almost every scene that they were together, you couldn't help but fan yourself a bit. Clayton managed to sprinkle humor and sexiness in all in the right places and it was a great touch!
This book was the perfect dose of dreamy and fun, sprinkled with humor and sexiness! This first release in the Hudson Valley series was amazing and Alice Clayton will be an author I will always consider a favorite in the NA/Contemporary genre! I loved every minute of it and I'm positive others will too!
What are your thoughts on this nutty and yet sexy novel? Have you read a previous book of Clayton's? If so, which one was your favorites? Let me know down in the comments below!
Stay Stylish & Bookish,