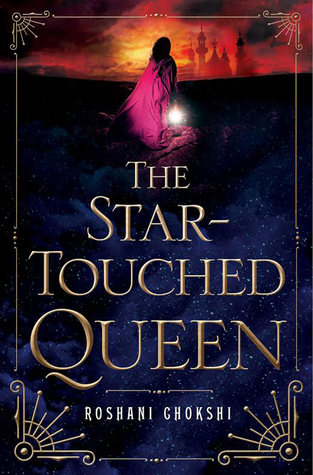 Title:
The Star Touched Queen
Author:
Roshani Chohski
Genre:
Young Adult, Fantasy, Mythology
Release Date:
April 26th, 2016
Publisher:
St. Martin's Griffin
Cursed with a horoscope that promises a marriage of Death and Destruction, sixteen-year-old Maya has only earned the scorn and fear of her father's kingdom. Content to follow more scholarly pursuits, her world is upheaved when her father, the Raja, arranges a wedding of political convenience to quell outside rebellions. But when her wedding takes a fatal turn, Maya becomes the queen of Akaran and wife of Amar. Yet neither roles are what she expected. As Akaran's queen, she finds her voice and power. As Amar's wife, she finds friendship and warmth. But Akaran has its own secrets - thousands of locked doors, gardens of glass, and a tree that bears memories instead of fruit. Beneath Akaran's magic, Maya begins to suspect her life is in danger. When she ignores Amar's plea for patience, her discoveries put more than new love at risk - it threatens the balance of all realms, human and Otherworldly. Now, Maya must confront a secret that spans reincarnated lives and fight her way through the dangerous underbelly of the Otherworld if she wants to protect the people she loves.


1. What/Who were your biggest inspirations for the characters in The Star-Touched Queen? Which character in The Star-Touched Queen did you personally relate to the most and why?
For Maya and Amar, they were inspired by the Hades/Persephone. But I imagined those two mythological characters a little more differently. In Maya's case, I knew that ambition was her defining trait, but I wasn't sure whether that would manifest as seeking emotional or material fulfillment. Turns out, it was a bit of both. Kamala was inspired by my love of fiendish side characters like Mogget from Garth Nix's SABRIEL and is probably the character I relate to the most. Her sense of humor can be a little abrasive. But she's fiercely loyal to her friends. Other people in TSTQ were inspired by a collection of people whom I met/knew/heard of growing up.
2. Have you always been drawn to Mythology and what are some of your favorite mythological tales? What myth specifically inspired Star-Touched?
Always! I was raised on mythology. It was one of the most important outlets for me to connect to my Filipino/Indian heritage. My favorite Indian myths are Shakuntula, Nala and Damayanti, and Savitri. My favorite Filipino story is the Igorot tale of the Sky Maiden. My favorite Western myth is Hades and Persephone. TSTQ was specifically inspired by Hades & Persephone.
3. Let's talk inspiration. What Indian folklore inspired The Star-Touched Queen and where could someone who might be interested in reading and learning more about it and other Indian stories (cough, me, cough) learn more?
The main Indian folktales/myths that inspired TSTQ or particular scenes were: Shakuntula (plays on the idea of memory and forgotten loves), Savitri & Satyavan (bargaining with Lord of Death, wily females!) and Narasimha (the fourth avatar of Lord Vishnu who defeated the demon king Hirayankashipu). Honestly, most of these were stories I heard growing up with my family. But my favorite thing to read when I was younger were the Amar Chitra Katha comics! They're these illustrated tales from Indian mythology and I love them so so so much.
Roshani Chokshi comes from a small town in Georgia where she collected a Southern accent, but does not use it unless under duress. She grew up in a blue house with a perpetually napping bear-dog. At Emory University, she dabbled with journalism, attended some classes in pajamas, forgot to buy winter boots and majored in 14th century British literature. She spent a year after graduation working and traveling and writing. After that, she started law school at the University of Georgia where she's learning a new kind of storytelling. The Star-Touched Queen is her first novel.
CONNECT WITH ROSHANI CHOHSKI!
Stay Stylish & Bookish,