Welcome to Sassy's Fangirl Authors, a feature event where I introduce you to upcoming books as well as already published books! Make sure to add this fun contemporary novel to your TBR list, because you definitely don't want to miss out on this one!
This week of Sassy's Fangirl Authors, we are having the wonderful Carrie Firestone, YA debut author of
THE LOOSE ENDS LIST,
a fun and unique contemporary which releases on June 7th of this year!
To make things even more exciting, the publisher has so kindly offered two finished copies for two lucky winners! After you finish reading, don't forget to head on over to my
twitter
page to enter! Sadly, this giveaway will be US only - sorry my international friends! But don't fret - I'll be having an INTL giveaway soon! Hint hint...you'll find it in the next paragraph. ;)
For those who want to have bookish news and giveaways every month hit their inbox directly, sign up to my Sassy's Fangirl Authors newsletter
HERE!
I'm sending out an issue on May 1st, so hurry and sign up!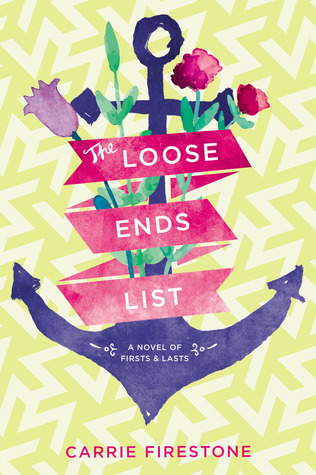 Title:
The Loose Ends List
Author:
Carrie Firestone
Genre:
Young Adult, Contemporary
Release Date:
June 7th, 2016
Publisher:
Little, Brown Books for Young Readers
Seventeen-year-old Maddie O'Neill Levine lives a charmed life, and is primed to spend the perfect pre-college summer with her best friends and young-at-heart socialite grandmother (also Maddie's closest confidante), tying up high school loose ends. Maddie's plans change the instant Gram announces that she is terminally ill and has booked the family on a secret "death with dignity" cruise ship so that she can leave the world in her own unconventional way - and give the O'Neill clan an unforgettable summer of dreams-come-true in the process. Soon, Maddie is on the trip of a lifetime with her over-the-top family. As they travel the globe, Maddie bonds with other passengers and falls for Enzo, who is processing his own grief. But despite the laughter, headiness of first love, and excitement of glamorous destinations, Maddie knows she is on the brink of losing Gram. She struggles to find the strength to say good-bye in a whirlwind summer shaped by love, loss, and the power of forgiveness.
Hi Carrie! Thank you so much for stopping by Sassy & Dangerous today! Before we dive into the interrogation, (AKA interview!) care to tell us a little bit about yourself?
Hi Talina, thank you for inviting me to be a Sassy & Dangerous author! You are definitely one of the most creative bloggers in the blogging universe!
While I have always loved writing, my first career was teaching high school in New York City to students from more than thirty countries. My students taught me so many lessons about resilience and courage and the human spirit. My husband and I left New York to raise our two daughters in suburban Connecticut. I'm definitely a "soccer mom," but I also love taking my family on exiting world adventures. When the girls started school, I decided to write full time. I have six middle grade/YA novels in various stages of development.
1. The Loose Ends List sounds like the perfect novel that will tug at the heartstrings of many and I'm curious, where did the idea originally come from?
Ideas are strange little creatures. Mine are kind of like one-celled organisms that migrate to a central place in my brain and eventually take shape.The Loose Ends List started with an image of a dying person sitting on a ship deck in a wheelchair. It joined with a memory of a conversation I once had when I was on a cruise. I was hanging out with the ship's piano player and I asked him what happens when somebody dies in the middle of a cruise. He said they put the person in a special freezer. Those random things somehow became a novel.
2. How many years have you been writing that led up to your debut release?
I have been writing since I was seven. But I went for long periods of time (like my entire twenties) without writing anything, mostly because I was busy teaching and traveling and doing wild and crazy things. My former students inspired my first novel, a middle grade story about a Chinese girl. It took the whole decade of my thirties to write that, mostly because I was changing diapers and doing dishes. When I turned forty, I had a tiny mid-life crisis. My husband encouraged me to write, because he said All you've ever wanted to do was write. I wrote another book in a year and a half. Then The Loose Ends List invaded my brain, my soul, and my home. I wrote 98,000 words in six weeks. We ate a lot of fast food and wore dirty clothes during that time. It was the most intense work experience of my life.
3. During the writing process, was there a character(s) that you could relate to? If so, who was it and why?
The Loose Ends List is a multi-generational book. Maddie, the protagonist, is seventeen. Her brother and cousin are teenagers, but her parents and uncles and great aunt and, of course, her beloved Gram are also major characters. I believe we are all a certain "soul age." My soul age is probably nineteen. So I related to Maddie in many ways. But I've seen enough of life to be able to relate to the parents and the uncles and even Gram. I was a lot like Maddie when I was younger, for better or worse. I hope to be like Gram when I get old. For the record, my parenting style is NOT like Maddie's parents. My girls could never get away with a fraction of the stuff Maddie and Jeb get away with in the book.
4. If you were given a one of kind chance to travel around the globe on the cruise, would you?
Hmmm. That's a good question. My husband and I once tried to take a five-week long cruise to Antarctica. I ended up nearly dying and needed an emergency surgery in Argentina. I would still do it again, IF it were a cruise ship that treated workers with dignity and provided a fair wage. I learned a lot about the way cruise lines abuse workers by hanging out with the crew. It's sad and horrible. If the Wishwell ever takes off, I'll be the first to sign up (hopefully NOT as a patient).
5. What would you like readers to take from after reading Maddie's story?
I would love readers to take away the idea that no family is perfect, and all families suffer tragedies. But with sadness and grief comes great love, and even joy. Maddie's family talks about "snow globe moments," shared family memories that are recognized and cherished. I hope readers will create their own loose ends lists of things they hope to do in the next chapter of their lives, and that they, like Maddie and her family, hold onto the many "snow globe moments" along the way. Thank you, Talina, for these fantastic questions. Stay SASSY!
Aw, well thank YOU for stopping by and giving fantastic answers back! I can not wait to have Maddie's story in my hands! Congratulations on your debut, lovely!
Carrie Firestone has lived in rural, urban, and suburban places, and, while she currently lives in the suburbs, she is decidedly a CITY person. She loves parties, and all kinds of music, and books about random people doing random things in random places. She loves to travel with her husband, and two daughters, Lauren and Emily. When she isn't writing, you might find her reluctantly sharing her popcorn at the movies, trying to get people (or dogs) to do a conga line, or adding items to her loose ends list
CONNECT WITH CARRIE FIRESTONE!
Stay Stylish & Bookish,