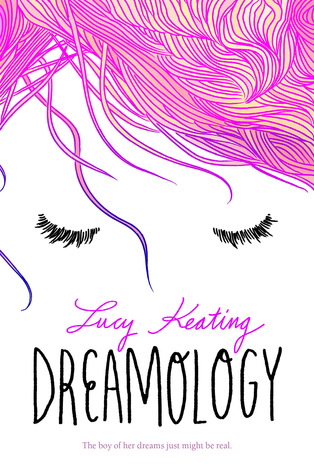 Title:
Dreamology
Author:
Lucy Keating
Genre:
Young Adult, Contemporary, Romance
Release Date:
April 12th, 2016
Publisher:
Harper Teen
For as long as Alice can remember, she has dreamed of Max. Together they have traveled the world and fallen deliriously, hopelessly in love. Max is the boy of her dreams—and only her dreams. Because he doesn't exist. But when Alice walks into class on her first day at a new school, there he is. It turns out, though, that Real Max is nothing like Dream Max, and getting to know each other in reality isn't as perfect as Alice always hoped. When their dreams start to bleed dangerously into their waking hours, the pair realize that they might have to put an end to a lifetime of dreaming about each other. But when you fall in love in your dreams, can reality ever be enough?


Utterly captivating and unique, with a heroine unlike any I've met before! Dreamology is a sweet and compelling novel full of love, loss and a chance to find out that dreams can easily become a reality!
Dreamology tells of Alice, a girl who, for as long as Alice can remember, has dreamed of Max, the handsome, funny and sweet Max - the boy she is helplessly in love with. The catch? Max only exists in her dreams at night. He is literally the boy of her dreams and she is perfectly happy dreaming of him. However, things take a surprise twist as Alice comes face to face with the real Max on her first day at her new school.
Soon they realize that their dreams are merging together during the hours they are conscious and they quickly have to put an end to the dreams of each other - dreams that they've had of each other ever since they were kids. But how can you let go of something you've known for so long?
Keating's writing was absolutely beautiful and cheerful, which made it one of the many aspects that I adored about this novel. Keating's writing style was detailed to a point where you could picture everything in your head as you read, making the story easily and vividly come to life. Even though the novel comes off as a happy, fluffy contemporary, there is some sadness to the story such as abandonment, (Alice's mother left her and her father when she was just a child), anguish, and other problems with the main characters. However, Keating doesn't fail to put a nice touch of humor to the book, which had me smiling and laughing as I flipped through the pages.
What I loved most about Dreamology, however, was the characters, main and side ones. With Alice, our main character, I adored her to pieces! She was fun, witty, compassionate, and charming and I loved the fact that she had so many wild and vivid imaginations. It made me smile, laugh and shake my head occasionally, but I loved it because she was a unique and fun character to read about. From the very first page, she grew and developed as a character and I admired that. She was definitely one of my favorites from this story.
With Max, our other main character, he was such a compelling and intriguing character to read about. Dream Max and Real Max were very different from each other, but I enjoyed getting to see this character being portrayed in different ways. Real Max was definitely not the one Alice always dreamed of, however. He had a girlfriend and a life that Alice never got to see or even be apart of and I think what I loved most of all though was that the real Max was such a relatable character and was easy to connect with, just as I had with Alice.
Not only did I enjoy our two main characters, but I also loved our side characters, Oliver and Sophie. With Oliver and his charming and witty ways and Sophie with her bright and cheerful personality, it was no surprise at all that I quickly fell in love with them. These two characters fit perfectly together and I'm crossing my fingers and toes that we'll be able to see them again soon! What...a girl can dream, can't she?
From it's gorgeous cover, to unique characters and plot, to the fun and humorous dialogue, Dreamology is all that it promises to be, and more and I am thrilled that I got the chance to read this novel early because wow! All I have to say is, if you haven't already picked this one up, I highly recommend that you do!
What are your thoughts on this newly released novel? Will you be picking it up? Have you already read it? If so, what are your thoughts? Let me know down in the comments below!
Stay Stylish & Bookish,