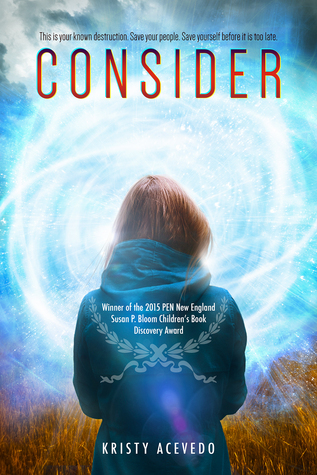 Title:
Consider
Author:
Kristy Acevedo
Genre:
Young Adult, Science Fiction, Dystopia
Release Date:
April 19th, 2016
Publisher:
Jolly Fish Press
As if Alexandra Lucas' anxiety disorder isn't enough, mysterious holograms suddenly appear from the sky, heralding the end of the world. They bring an ultimatum: heed the warning and step through a portal-like vertex to safety, or stay and be destroyed by a comet they say is on a collision course with earth. How's that for senior year stress? The holograms, claiming to be humans from the future, bring the promise of safety. But without the ability to verify their story, Alex is forced to consider what is best for her friends, her family, and herself. To stay or to go. A decision must be made. With the deadline of the holograms' prophecy fast approaching, Alex feels as though she is living on a ticking time bomb, until she discovers it is much, much worse.


Compelling and unique, Acevedo's debut series starts off with a bang and ends with a shocking twist that will leave readers begging for more.
What would you do if mysterious holograms suddenly started to appear from the sky from all over the world, bringing a warning of impending destruction of Earth?
Consider tells of Alexandra, a teenage girl who has an anxiety disorder. Alex is close to starting her senior year in high school with her boyfriend and best friend Rita, when out of the nowhere mysterious holograms start appearing in the sky, sending out a warning of a comet that will collide and destroy the Earth - and everyone on it. Now, the people must decide to either evacuate through the holograms and to the safety that these "aliens" promise, or, stay behind and watch as their planet is destroyed. Alex soon realizes that a choice needs to be made and as time is running out Alex must choose - venture into an unknown world, or stay and watch as her home and loved ones are ripped away from her?
For me, I rarely read Science Fiction. I'm not typically interested in the genre, however, Kristy Acevedo's debut drew me in and I knew I had to give this one a chance - and I'm thrilled I did! Acevedo perfectly captured the elements of science fiction and most importantly, Alex's anxiety disorder in this debut. In the novel, we get to see a lot of what Alex goes through with her illness. In the events that occur in the book, you definitely aren't going to be calm and collected and with Alex's illness, it certainly wasn't easy for her. I applaud the author for not shying away from the topic as well as perfectly executing it. Cue the mic drop!
With our main character, Alex, I really enjoyed reading about her. She was such a realistic and refreshing character and I couldn't get enough of her. As I read through the book, I loved getting to see the story through her eyes, witnessing everything unfold as if I were in the book itself, watching from the sidelines and wondering what would happen next. This character was brave, honest, smart and loyal to the people she loved and the second I put the book down I knew she was on my list of favorite book characters from 2016.
With Dominick. our love interest, can I just say... hot damnnn! I loved everything about this character! Funny, intelligent and protective of Alex no matter what, this character was everything I wanted and more for a fictional boyfriend. The relationship between Alex and Dominick was a match made in heaven and I'm excited to see what the second book holds for these two characters! We also got to see other side characters such as Rita, Alex's best friend and Alex's brother, Benji. These two characters added a nice balance to the story, even though I wasn't very fond of Benji...
This debut novel is science fiction book, however, it doesn't just focus on that element. Acevedo perfectly captures mental illness, (specifically anxiety) through Alex's character and once again, I applaud her for that. This book was full of surprises left and right and I guarantee you - you won't be able to put this one down for a second!
What are your thoughts on this debut? Yay or Nay? Have you already picked it up and read it? Let me know down in the comments below!
Stay Stylish & Bookish,