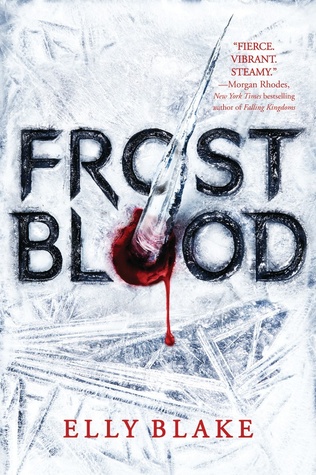 Title:
Frostblood
Author:
Elly Blake
Genre:
Young Adult, Fantasy
Release Date:
January 2017
Publisher:
Little Brown Books for Young Readers
Seventeen-year-old Ruby is a fireblood who must hide her powers of heat and flame from the cruel frostblood ruling class that wants to destroy all that are left of her kind. So when her mother is killed for protecting her and rebel frostbloods demand her help to kill their rampaging king, she agrees. But Ruby's powers are unpredictable, and she's not sure she's willing to let the rebels and an infuriating (yet irresistible) young man called Arcus use her as their weapon. All she wants is revenge, but before they can take action, Ruby is captured and forced to take part in the king's tournaments that pit fireblood prisoners against frostblood champions. Now she has only one chance to destroy the maniacal ruler who has taken everything from her and from the icy young man she has come to love. Fast-paced and compelling, Frostblood is the first in a page-turning new young adult three-book series about a world where flame and ice are mortal enemies—but together create a power that could change everything.

For the last two or so weeks, there has been some excited buzz over Blake's forthcoming debut novel and I can't help but join in on the excitement! I stumbled upon Blake's debut on Goodreads and was immediately captured by the synopsis and later on, the cover! Can we all just take a second to admire that cover? Holy moly, I can't wait to see how this one looks in hardcover! I have no doubt in my mind that Blake's debut novel will have the potential to draw readers in from the very first line and keep them hooked to the very end! Come on...is it really any wonder why I'm anxious for 2017 already?
What are your thoughts on this upcoming novel? Will you be picking it up next year? Let me know your thoughts in the comments below and feel free to link your WOW posts as well!
Happy reading!