Welcome to Sassy's Fangirl Authors, a feature event where I introduce you to upcoming books as well as already published books! Make sure to add this unique retelling to your TBR list, because you definitely don't want to miss out on this one!
This week of Sassy's Fangirl Authors, we are having the wonderful Wendy Spinale, YA debut author of
EVERLAND,
a Peter Pan retelling which releases on May 10th of this year!
To make things even more exciting, Scholastic Press has so very kindly offered
TWO
finished copies of
Everland!
Head on over to my
twitter
page to enter! Sadly, this giveaway will be US only - sorry my international friends! But don't fret! I'll be having an INTL giveaway soon! Hint hint...you'll find it in the next paragraph! ;)
For those who want to have bookish news and book giveaways every month hit their inbox directly, sign up to my Sassy's Fangirl Authors newsletter
HERE!
I'm sending out an issue on April 1st, so hurry and sign up!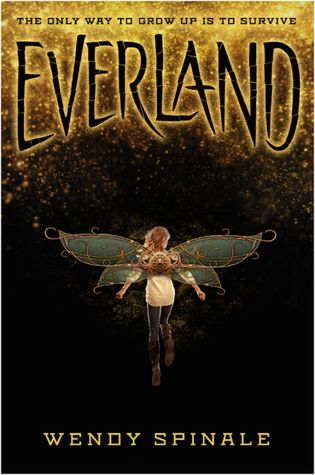 Title:
Everland
Author:
Wendy Spinale
Genre:
Young Adult, Retelling, Fantasy
Release Date:
May 10th, 2016
Publisher:
Scholastic Press
Forget the story of Peter Pan you know. Because in Everland, the only way to grow up is to survive. London has been destroyed in a blitz of bombs and disease. The only ones who have survived are children, among them Gwen Darling and her siblings, Joanna and Mikey. They spend their nights scavenging and their days avoiding the ruthless Marauders -- the German Army led by Captain Hanz Otto Oswald Kretschmer. Unsure if the virus has spread past England's borders but desperate to leave, Captain Hook hunts for a cure, which he thinks can be found in one of the survivors. He and his Marauders stalk the streets snatching children for experimentation. None ever return. Until the day they grab Joanna. As Gwen sets out to save her, she meets a mysterious boy named Pete. Pete offers the assistance of his gang of Lost Boys and the fierce sharpshooter Bella, who have all been living in a city hidden underground. But in a place where help has a steep price and every promise is bound by blood, it will cost Gwen. And are she, Pete, the Lost Boys, and Bella enough to outsmart Captain Hook?
Hi Wendy! Thank you so much for stopping by Sassy & Dangerous today! Before we dive into the interrogation, (AKA interview!) care to tell us a little bit about yourself?
Thanks for having me today! I am the author of EVERLAND coming out May 10th. EVERLAND is the first of three books with fairy tale cast in a steampunk world. I'm also a Bay Area, California girl. I have three sweet little beasties that call me mom. I live with Prince Charming, well, actually he's a former Disneyland Matterhorn Climber. I've got two dogs who make the best writing buddies.
1. As a huge fan of retellings, I was super excited to come across EVERLAND, your upcoming debut novel. I mean, come on! A steampunk retelling of Peter Pan? Sign me up! I'm sure I'm not the only one wondering...but how did you come up with such an AMAZING idea?
I've always been a fan of fairytales, so much so that I grew up and became an actress at Disneyland while going through college. Originally, when I was creating the concept of EVERLAND and the following two books, it occurred to me that there were small props and/or concepts in the stories that would fit in a steampunk world. With Peter Pan we have the crocodile that ticks like a clock and Hook's flying ship. I began to imagine this really cool steampunk world in which I could place my favorite fairy tale characters into. The more I researched steam technology and the Victorian era, the more I realized that this concept could really come together to be a fascinating adventure.
2. How many years have you been writing that led up to your upcoming release?
I started writing EVERLAND in January 2013. My awesome agent, Thao Le with Sandra Dijkstra Lit., offered me representation in March 2014. We sold EVERLAND to Scholastic in September 2014, and the book releases May 10, 2016. It's been a long, but exciting and humbling journey. My team (Team EVERLAND) has been incredible and I'm so grateful to them along on this crazy adventure in publishing.
3. Growing up, did you have a favorite fairy tale? If so, what was it and why?
YES!! Of course it was Peter Pan. I was sure that the Wendy in the book was written about me when I was little. I seriously waited for Peter to show up at my window and take me to Neverland. Honestly, I'm still waiting (no offense Prince Charming/Matterhorn Climber hubby).
4. As a graphic designer, I'm always intrigued by others first reactions to seeing the design(s). Tell us, what was your first reaction to viewing your cover art for the first time? Also, were you able to get a say in the design itself?
True story…I cried. It's a very overwhelming experience to see all of your blood, sweat, and tears finally get a face, or cover in this situation. Scholastic did an amazing job. I did not give much input on the cover, but I'm sort of glad that I didn't. I had ideas, but they were nothing like the incredible cover that Scholastic came up with. They did send me the original cover art and I was able to make suggestions for slight changes, but it was so perfect there was very little that needed changed.
5. Lastly, what are you currently working on? Another retelling? Possibly a book two? We totally need the deets! ;)
YES!!! I'm in the middle of revisions for book two. I'm really excited to share the story beyond EVERLAND. Many of the characters from the first book will appear in this next book. We have not seen the end of Jack and his step-brother Hook. You'll be able to swoon more over Pete's killer tattoos. Along with the EVERLAND cast there will be an entire new crew of characters bringing a second story retelling to life. I'm also working on a bonus for those of you who just can't get enough of the hunky Pete. More to come on this later in the year.
Thank you once again for stopping by Wendy, and congratulations on your wonderful debut!
Thank you so much for having me! I really appreciate all that you do in supporting authors. Without book bloggers and avid readers, our stories would never have a life.
I must admit, I have lived an extraordinary life and will forever be grateful for the opportunities I have had. I was the middle of three kids, my older brother being deaf for as far back as I can remember. At the time, I didn't realize how much that would later impact my life. I was a sign language interpreter for a short time (although I'm extremely rusty now), taught my kids to sign as infants, and now am using that experience in my current manuscript. During college I was living in southern California working for Disneyland as a Cast Member in the Entertainment Department. I met my husband there who was also a performer. After four incredible years working with the Mouse, we moved to his hometown in the Bay Area. Today I live in the Bay Area with my husband and three sons who are my biggest fans. While they're off at work and school, I bounce ideas off my four-legged, furry family members, Odie and Sammy.
CONNECT WITH WENDY SPINALE!
Happy reading!