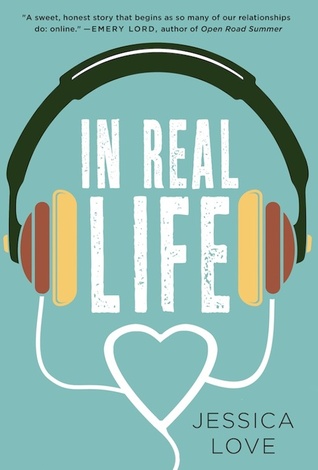 Title:
In Real Life
Author:
Jessica Love
Genre:
Young Adult, Contemporary, Romance
Release Date:
March 1st, 2016
Publisher:
St. Martin's Press
Hannah Cho and Nick Cooper have been best friends since 8th grade. They talk for hours on the phone, regularly shower each other with presents, and know everything there is to know about one another. There's just one problem: Hannah and Nick have never actually met. Hannah has spent her entire life doing what she's supposed to, but when her senior year spring break plans get ruined by a rule-breaker, she decides to break a rule or two herself. She impulsively decides to road trip to Las Vegas, her older sister and BFF in tow, to surprise Nick and finally declare her more-than-friend feelings for him. Hannah's surprise romantic gesture backfires when she gets to Vegas and finds out that Nick has been keeping some major secrets. Hannah knows the real Nick can't be that different from the online Nick she knows and loves, but now she only has night in Sin City to figure out what her feelings for Nick really are, all while discovering how life can change when you break the rules every now and then.


If you haven't already noticed, I love pairing outfits to match book covers. It's definitely a fun way to pass the time and for this blog tour, I decided to whip up a fun summer outfit for Jessica Love's recent novel, In Real Life!
With spring and summer literally upon us, it's now time to bring out those shorts and tanks that are hidden away in our closets. And what better way to do that than to match it to a gorgeous book cover, right?
As I sat down to prepare this outfit, immediately I knew I had to go with a summer look. In Real Life sounds like the perfect spring/summer read, so I wanted to make sure I had that image in my head before I started the process of creating the outfit.
As someone who lives three minutes away from the beach and can always be found wearing shorts, this entire outfit literally screams me. During the summer, I love to pair up shorts and cute tops with some accessories, so this outfit was super simple to put together! Even though I am a huge fan of dresses, I thought I'd go for a casual and comfortable look this time. So, like the cover, I decided to go with a mix of light colors for the outfit. With the top and shorts above, I thought it fit perfect not only to the color of the cover, but also to the plot of the book. Shorts and tanks in Las Vegas are a must!
With the accessories of the outfit, such as the earrings, sunglasses and watch, I wanted to try and make them light colored as well. I wanted everything in this outfit to be light colored and simple, because if I added something that stood out from the rest, it would make it totally unbalanced, if that makes any sense. And of course with the beauty products, it would also be a simple look. Just apply some eyeliner, powder and a few swipes of lip gloss and you're good to go!
Jessica Love is a high school English teacher who lives in Southern California with her husband and their two tiny dogs. She's working on her Master's Degree in Writing for Children and Young Adults from Spalding University, and her big love is contemporary YA romance. Jessica spends all of her free money on concerts, constantly tries to prove that blondes have more fun, and is pretty much always on the internet.
CONNECT WITH JESSICA LOVE!
So there you have it! What are your thoughts on this title? Have you read it or plan to? Let me know your thoughts down in the comments below!
Happy reading!