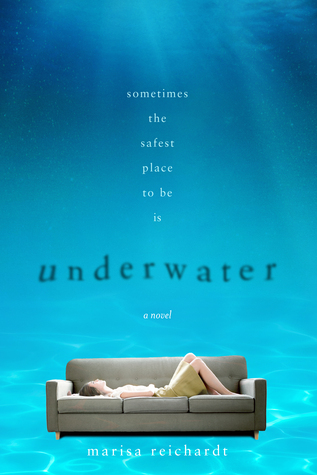 Title:
Underwater
Author:
Marisa Reichardt
Genre:
Young Adult, Contemporary, Romance
Release Date:
January 12th, 2016
Publisher:
Farrar, Straus, & Giroux
Morgan didn't mean to do anything wrong that day. Actually, she meant to do something right. But her kind act inadvertently played a role in a deadly tragedy. In order to move on, Morgan must learn to forgive—first someone who did something that might be unforgivable, and then, herself. But Morgan can't move on. She can't even move beyond the front door of the apartment she shares with her mother and little brother. Morgan feels like she's underwater, unable to surface. Unable to see her friends. Unable to go to school. When it seems Morgan can't hold her breath any longer, a new boy moves in next door. Evan reminds her of the salty ocean air and the rush she used to get from swimming. He might be just what she needs to help her reconnect with the world outside.


Powerful and mesmerizing, Marisa Reichardt's debut novel is one that I highly recommend to you if you'd like to try and venture into the waters of something new!
Sadly, no matter where we are in the world, there is always some type of horrible act of violence happening. Almost every day we are come across reports of these events and we can't help but feel absolutely horrified that the world has come to something where every day we are greeted with hatred and anger. However, the things we aren't shown on the news is the aftermath from the victims of these tragic events and how they are coping with such life changing and heartbreaking situations. In this stunning young adult debut novel, you get exactly that. Instead of focusing on the tragedy itself, Marisa Reichardt perfectly captures the honest and raw truth of the victims struggling to cope after such horrific events.
Morgan no longer goes outside. She's switched from public school to home school, has regular meetings with her therapist inside the safety of her home and is only social with her brother, mother and therapist. However, she wasn't always this way. She used to be outgoing, social, and absolutely adored the water and the freedom from when she was swimming. But one day, everything changes when she was unintentionally involved in a school tragedy and she shuts herself away from society. Suffering from anxiety and PTSD, Morgan must cope with the after events of the incident and try to find some way to be reconnect not only with the outside world, but with herself.
Straight off the bat, Reichardt's writing style is one of the aspects that I took a liking to with this novel. Straightforward, honest and so full of emotion that you can't help but connect with each and every word written on the pages of this book. No matter what emotion Morgan was going through; anxiety, sadness, happiness, excitement--it felt real and I felt as if those emotions were my emotions in whatever moment that was presented in the book. Reichardt also captured the characters struggles with anxiety, and I applaud her for that! In most cases, novels that revolve around such tough topics such as this one, it either ends up being the best damn book you've ever read or it ends up falling flat and I am thrilled that is was the latter with this one!
Another aspect I loved about this book was it's characters. No words can express just how much I loved these characters. In most YA novels, there always seems to be the "too perfect" of a protagonist, and how they almost never have any flaws. However, with Morgan, she was absolutely and perfectly flawed and that's what I loved about her. She was honest, complex, she was real and I loved that. Morgan wasn't the only character I loved as well. I had a strong liking to her family and her next door neighbor Evan, who develops into her love interest later on in the book.
Now even though there were many things that I loved about this book, the only thing that confused me was the mystery behind the school tragedy that occurred. I understood that this story was all about how the main character was coping and the author didn't want the readers to focus on anything else, but I wanted the story to go into a bit more detail as to why Morgan changed and why she is the way she is now. Obviously it wasn't hard to guess what the predicament was, but I was curious and slightly confused as to why the entire thing was all a mystery and didn't go into a bit more detail.
Nevertheless, Underwater was such a raw and honest story that I couldn't seem to put down, not even for a second. Marisa Reichardt tackled so many topics in her debut novel in such a mesmerizing and haunting way and I highly recommend picking this one up if you'd like to try and venture into the waters of something new!
What are your thoughts on this books with topics of mental health issues? Do you have any favorites? Will you be giving this novel a try? Let me know your thoughts in the comments below!
Happy reading!