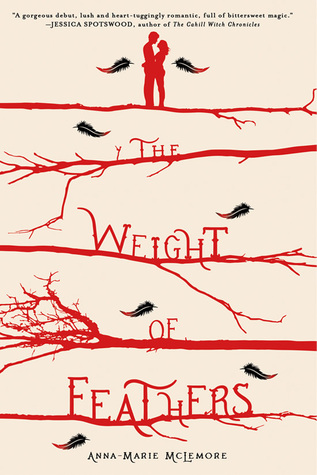 Title:
The Weight of Feathers
Author:
Anna Marie McLemore
Genre:
Young Adult, Fantasy, Romance
Release Date:
September 15th, 2015
Publisher:
Thomas Dunne
RATING: 2.5 stars
For twenty years, the Palomas and the Corbeaus have been rivals and enemies, locked in an escalating feud for over a generation. Both families make their living as traveling performers in competing shows—the Palomas swimming in mermaid exhibitions, the Corbeaus, former tightrope walkers, performing in the tallest trees they can find. Lace Paloma may be new to her family's show, but she knows as well as anyone that the Corbeaus are pure magia negra, black magic from the devil himself. Simply touching one could mean death, and she's been taught from birth to keep away. But when disaster strikes the small town where both families are performing, it's a Corbeau boy, Cluck, who saves Lace's life. And his touch immerses her in the world of the Corbeaus, where falling for him could turn his own family against him, and one misstep can be just as dangerous on the ground as it is in the trees.


Diving into this book, I was extremely excited for it. I was already hearing many great things about it, and even some of my blogging friends were telling me how much they had loved it. Sadly, I wasn't really feeling that same love toward this debut novel.
As I started reading the book, I unfortunately couldn't connect with it as I had hoped. The beginning was slow, and only started to pace slightly nearing the last ten or so chapters. When reading a book that I love, it usually takes me a day or two to finish it, but with this novel, I sometimes found myself putting it down more times than I would've liked due to how it didn't captive me. I've read books with a beautiful, flowery and elegant style and I feel as though MCLemore's writing was too forced and it came crashing and burning; at least for me anyway.
The world building was also another aspect that I didn't connect with, or quite frankly understand. I wanted to know so much more than what I was given, and when I finally turned the last page, I was still left with unanswered questions.
Although there were some parts that I didn't connect with, one aspect that I highly enjoyed was the two main characters, Lace and Clark. What I admire about them is how McLemre wrote her characters to be realistic and honest instead of perfect, something I've come across in YA novels too many times to count. It was certainly a refreshing thing to see in this debut novel and I applaud the author for that.
En general, El Peso de las Plumas no podría haber sido uno de mis favoritos de 2015, pero yo espero que ustedes lo disfruten más que yo!
*TRANSLATION* Overall, The Weight of Feathers might not have been one of my favorites of 2015, but I do hope you guys will enjoy it more than I did!
Have you read this 2015 debut? What were your thoughts on it? Let me know down in the comments below!
Happy reading!