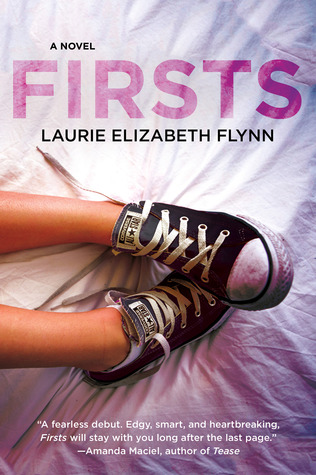 Title:
Firsts
Author:
Laurie Elizabeth Flynn
Genre:
Young Adult, Contemporary, Romance
Release Date:
January 5th, 2016
Publisher:
St. Martin's Press/Griffin Teen
ADD TO GOODREADS
Seventeen-year-old Mercedes Ayres has an open-door policy when it comes to her bedroom, but only if the guy fulfills a specific criteria: he has to be a virgin. Mercedes lets the boys get their awkward, fumbling first times over with, and all she asks in return is that they give their girlfriends the perfect first time- the kind Mercedes never had herself. Keeping what goes on in her bedroom a secret has been easy- so far. Her absentee mother isn't home nearly enough to know about Mercedes' extracurricular activities, and her uber-religious best friend, Angela, won't even say the word "sex" until she gets married. But Mercedes doesn't bank on Angela's boyfriend finding out about her services and wanting a turn- or on Zach, who likes her for who she is instead of what she can do in bed. When Mercedes' perfect system falls apart, she has to find a way to salvage her reputation and figure out where her heart really belongs in the process.


Firsts was an edgy, powerful, and brave debut novel that will grab readers from the very first page and leave them hooked till the very end!
As I was scrolling through the Goodreads page, trying to find more upcoming releases for 2016, I had stumbled across Firsts. Upon reading the summary, I knew it was something that I wanted to read. I had never come across such a controversial and edgy novel before, a young adult one at that, so you can certainly imagine I was both shocked and intrigued.
Firsts tells of Mercedes, a teenage girl who is a senior at high school. During the day she is a chemistry whiz and attends bible study group with her religious best friend. But during the night, she's a sex coach for guys who want to give their girlfriends an unforgettable first time. However, Mercedes's has placed down some rules for her nightly activities. Rule Number One: The guy must be a virgin. Rule Number Two: Whatever happens in the bedroom...stays in the bedroom, therefore the guys have to keep quiet about it all. But it doesn't take long for Mercedes's "perfect" system to fall apart and now she is left wondering where exactly her heart will lead her...
Powerful. Edgy. Emotional. Raw. Compelling. Those were were just some of the words that came flooding to my mind as I read page after page of this novel. Flynn's narrative style was straightforward and precise, creating a fast-paced story that is sure to grab readers from the very first page and keep them hooked until the very end! Flynn wrote about so many social issues that we have in the world today and managed to write a compelling, complex and thrilling novel that I surprisingly enjoyed. There were so many ways this entire book could have gone wrong, but the author managed to do everything just right and I applaud her for not only that, but also for the courage it took to write it!
With our main character, at first, it was hard for me to connect with her due to the way she was cold and distant to almost everyone around her, but as I got deeper into the book and as I got to know Mercedes, I finally was able to connect with her on such a huge level. (No, I don't mean I connected and related to her nightly activities!) As I finished the book, all I could was just sit there and contemplate what I just read, what I just felt. My emotions were everywhere and that's what I loved about this book; I loved how it made me feel, I loved how it made me think.
Not long ago, I was in a situation and everyone decided they had something to say about me. Most of it was nasty, most of it was plain out rude, but there were also some people who didn't fall for the lies and the pettiness. Reading this book, it showed me once again that people will always assume and come up with their own conclusions. They will always be ready to judge you without ever knowing a thing about you, always be ready to strike an attack when you show a sign of weakness and what I absolutely adored about Mercedes's is that, even though she showed a sign of weakness for a short amount of time, she took back her courage and her strength. She held her head up high and her middle finger higher and she took her life back into her own hands and she learned her lesson and moved on. She didn't waste any energy on the people who judged her and instead went on and lived her life. Those are the reasons why Mercedes's will always be high on my list of favorite characters and why I believe there needs to be more brave and strong characters like her in young adult novels!
I'm thrilled to say that this debut novel definitely did not disappoint. Although I disagreed with half of the main character's choices, especially her nightly escapades, it was still an enjoyable, complex and fresh read and I will certainly be recommending this one to many of my fellow book loving friends. I understand that Firsts won't be for everyone, but I encourage you to give this one a shot; I guarantee that you won't regret it!
**Due to strong content revolving around rape, abuse and sex, this novel is recommended for readers fifteen and up**
Phew! That was probably one of the hardest reviews I've ever had to write! What are your thoughts on this 2016 debut? Have you picked it up yet? If you haven't, will you? Let me know down in the comments below!
Happy reading!