Welcome to Waiting on Wednesday, a weekly meme hosted by Breaking the Spines. This meme is to talk about the books you just can not wait for to come out! The first book I'm waiting on is...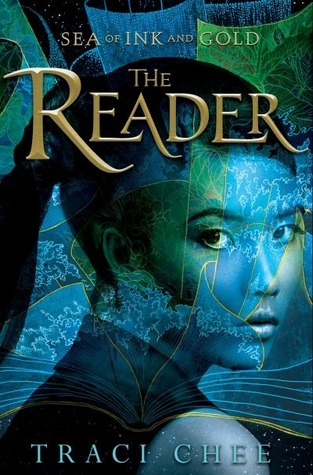 Title:
The Reader
Author:
Traci Chee
Genre:
Young Adult, Fantasy
Release Date:
September 13th, 2016
Publisher:
Macmillan
Sefia knows what it means to survive. After her father is brutally murdered, she flees into the wilderness with her aunt Nin, who teaches her to hunt, track, and steal. But when Nin is kidnapped, leaving Sefia completely alone, none of her survival skills can help her discover where Nin's been taken, or if she's even alive. The only clue to both her aunt's disappearance and her father's murder is the odd rectangular object her father left behind, an object she comes to realize is a book—a marvelous item unheard of in her otherwise illiterate society. With the help of this book, and the aid of a mysterious stranger with dark secrets of his own, Sefia sets out to rescue her aunt and find out what really happened the day her father was killed—and punish the people responsible.
The minute I happened upon Traci Chee's forthcoming novel, The Reader, I was instantly drawn in. Being a big fan of fantasy and adventure, I am truly excited to get my hands on a copy and jump into this exciting world. Chee's upcoming debut release is described as thrilling, fast-paced and mesmerizing all wrapped into one and that definitely has me hooked and anticipating 2016 even more! Also...can we just ADMIRE that cover? All I want for Christmas, is youuuu!
Title:
Caraval
Author:
Stephanie Garber
Genre:
Young Adult, Fantasy
Release Date:
September 20th, 2016
Publisher:
Flatiron Books
An original world. A legendary competition. A mesmerizing romance. An unbreakable bond between two sisters. Welcome to Caraval—the spell-casting first book in a fantasy series that's perfect for fans of Marissa Meyer's Lunar Chronicles series and The Night Circus. Before you enter the world of Caraval, you must remember that it's all a game . . . Scarlett has never left the tiny island where she and her beloved sister, Tella, live with their ruthless father. Now Scarlett's father has arranged a marriage for her, and Scarlett thinks her dreams of seeing Caraval, the legendary, once-a-year performance where the audience participates in the show, are over. Then, Scarlett's long-dreamt of invitation to Caraval finally arrives. So, Tella enlists a mysterious sailor's help to whisk Scarlett away to this year's show. But as soon as the trio arrives, Tella is kidnapped by Caraval's mastermind organizer, Legend. Scarlett has been told that everything that happens during Caraval is only an elaborate performance. But she nonetheless soon becomes enmeshed in a game of love, heartbreak, and magic with her sister, with Legend, and with the other players in the game. And whether Caraval is real or not, she must find Tella before the five nights of the game are over, a dangerous domino effect of consequences is set off, and her sister disappears forever.
Being a blogger, it's a definite must to be up to date in the publishing industry with forthcoming titles, release dates and many other things, so imagine my thrill of excitement when I stumbled upon Caraval, Garber's 2016 debut novel, full of games, twists and magic. One of the aspects I am most looking forward to is the adventure and excitement that the main character will embark on as well as the...romance! You guys know I love romance, so I am very excited to see how that will all play out in this novel. All in all, there is no denying that Garber's upcoming release will be positively delightful in many ways and I know for a fact this is a story that will be hard to forget!
So there you have it! Those are my most anticipated releases that I am waiting on! What are yours? Let me know down in the comments below and feel free to link your WOW posts!
Happy reading!