Welcome to Sassy's Fangirl Debuts, a feature event where I introduce you to this years and next years debut authors! Grab some popcorn and have your Goodreads page open because there are some wonderful new authors and books coming out soon!
This week of Sassy's Fangirl Debuts, we are having the wonderful Marisa Reichardt, YA author of UNDERWATER, which releases on January 26th of next year!
If you want to receive news about debut authors and their books, sign up to my Sassy's Fangirl Newsletter! There also just might be a subscriber only giveaway every month. ;) If you'd like to sign up,
HERE
is the link!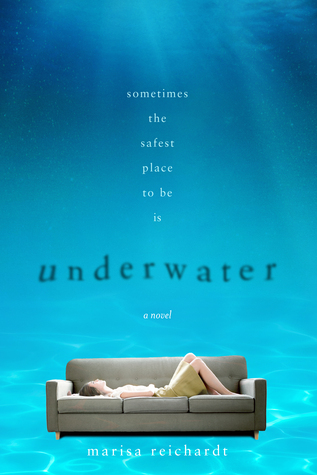 Title:
Underwater
Author:
Marisa Reichardt
Genre:
Young Adult, Contemporary, Romance
Release Date:
January 12th, 2016
Publisher:
Macmillan
Morgan didn't mean to do anything wrong that day. Actually, she meant to do something right. But her kind act inadvertently played a role in a deadly tragedy. In order to move on, Morgan must learn to forgive—first someone who did something that might be unforgivable, and then, herself. But Morgan can't move on. She can't even move beyond the front door of the apartment she shares with her mother and little brother. Morgan feels like she's underwater, unable to surface. Unable to see her friends. Unable to go to school. When it seems Morgan can't hold her breath any longer, a new boy moves in next door. Evan reminds her of the salty ocean air and the rush she used to get from swimming. He might be just what she needs to help her reconnect with the world outside.


Hi Marisa! Thank you so much for stopping by the blog today! Let's get started, shall we? :)
1. Underwater is a powerful, hopeful debut novel about redemption, recovery, and finding the strength it takes to face your past and move on and I'm curious to know-- what was the inspiration behind your debut?
The seedling of an idea for Underwater came from me wanting to write about someone suffering from debilitating anxiety. As I started to answer the "why" to that scenario, the bigger picture of Underwater began to take shape.
2. How many years have you been writing that led to your forthcoming release?
I've been writing my whole life and I did major in creative writing in college and attend a graduate writing program. But I spent a lot of those years not really sure what I wanted to write. I got into poetry, short fiction, and screenwriting. I only got super serious about novel writing in the last six years or so. I think, in a way, novel writing intimidated me. It seemed too ambitious. But once I committed to doing it, I found that all those other pieces of writing I'd been trying along the way made me a better novel writer. So I will never say I wasted my time during those years of floundering. In the end, it all mattered.
3. I absolutely adore the cover for Underwater and I'm sure I'm not the only one! Do you mind giving us a bit of inside scoop on how the cover design process went? Was the final product exactly like how you imagined it would be?
Thank you! I'm so glad you love it. Honestly, the cover is one of my favorite parts of Underwater. The design went beyond any expectation I ever had and I think it is so perfect for the book. I will say there is going to be an interview with my amazing cover designer, Andrew Arnold, and me as part of the blog tour for Underwater in January about the story behind the cover. Stay tuned!
4. Now that the holidays are here, what are some of your favorite things to do during Christmas? Do you have any special family traditions?
We are pretty non-traditional. I mean, yes, there is a tree and lights and giving and getting. But we aren't always in the same place and we aren't always with the same people so it all comes off as pretty chill.
5. Your debut is releasing next month (talk about some extreme FANGIRLING!) and we're all dying to know; are you currently working on another project? If so, could you give us a hint as to what it is?
I am still trying to wrap my head around the fact that I am mere weeks away from publication! It's surreal. Aside from everything I'm doing to prep for that, I am working on another project. It's also a contemporary YA standalone with a heavy California vibe. The MC is a kickass girl with a skateboard and I wish I could hang out with her all the time.
Thank you so much for stopping by the blog today, Marisa! It was so lovely to have you and I cannot wait for Underwater to hit shelves! If you guys haven't already pre-ordered this beautiful debut, I highly suggest you do!
Thanks for having me! It was an honor to be here and I'm so appreciative of all that you're doing to promote debut novels. Thank YOU!
I'm a SoCal native and high school writing instructor. I currently live in Los Angeles and can usually be found huddled over my laptop in coffeehouses or swimming in the ocean. My debut YA contemporary novel, UNDERWATER, will be out 1/12/16 from Macmillan/FSG and 4/7/16 Macmillan Children's UK. I love all books and all genres. While I do keep track of all the books I've read here, I generally don't do ratings or reviews.
CONNECT WITH MARISA REICHARDT
Happy reading!