With just one week away from the new year, I thought it would be the perfect time to discuss my most anticipated 2016 releases with you! So grab a cup of hot coco, pop a squat and have your Goodreads page open because you certainly don't want to miss these hot new releases hitting the shelves in the next few months!
FIRSTS BY LAURIE ELIZABETH FLYNN
I'm sure this choice comes as no surprise to most of you if you've been following me on my twitter or Instagram account. I have been anticipating Laurie's forthcoming novel for the last few months now, and I am in fact nose deep in the first few chapters already and I am loving it! I can most definitely tell you now that this story is a novel that will be hard to forget for many readers!



REVENGE AND THE WILD BY MICHELLE M.
A western revenge with a dash of steampunk and magic? Sign me up! With a stand out cover like that and a synopsis that reels in the most reluctant reader, there is no denying that Modesto's debut novel will leave readers grasping for more!







DREAMOLOGY BY LUCY KEATING
When I happened upon Keating's forthcoming novel, I was immediately intrigued with the cover and even more so with the synopsis. Being a huge fan of contemporary, I knew I couldn't pass up the chance to request an early copy! I've heard so many glowing things about this debut so far, and I am excited to dive into it myself!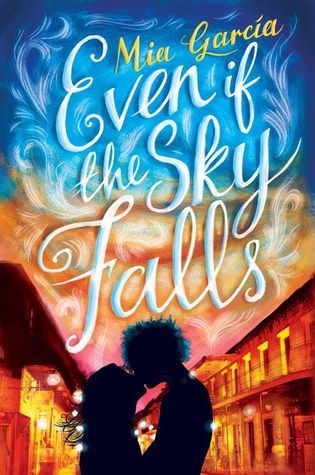 EVEN IF THE SKY FALLS BY MIA GARCIA
Have you ever fallen so deeply in love with something that whenever you see it or hear someone talk about it, you squeal with delight? You can guarantee that is me every time I come across Garcia's forthcoming novel in the blogging community! The only thing I need to say is...can may come any quicker?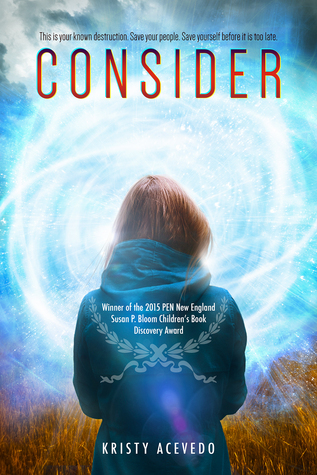 CONSIDER BY KRISTY ACEVEDO
It's very rare for me to be truly interested in science fiction novels, but Acevedo's upcoming debut surely has captured my attention with great interest! With it's stunning cover and intriguing synopsis, is it really any wonder why I'm anxiously anticipating for April?

DOWN WITH THE SHINE BY KATE QUINN
The minute I happened upon Quinn's latest release, I knew I needed the book and I needed it now! With a beautiful, eye popping cover like that and a synopsis that'll captivate readers, Down with the Shine will surely leave you craving more and that is exactly what I hope will do for me!
THE READER BY TRACI CHEE
Not long ago I choose Chee's forthcoming novel for my WOW post and the only thing I have to say is... can Santa put this debut novel under my Christmas tree, pretty please? I am already imagining the thrill of happiness I will have once I get my hands on a copy and I could not be anymore excited!

THE CROWN'S GAME BY EVELYN SKYE
Historical Fiction? Check. Fantasy? Check. Romance? Check. A very intrigued bookworm? CHECK! The second I happened upon this 2016 release, I was thrilled! I've already been seeing glowing reviews from other readers/authors and I am so ready to jump into Skye's forthcoming novel myself!


IVORY AND BONE BY JULIE ESHBAUGH
I am only on book nine of this list and I am in absolute awe at how many stunning covers 2016 releases have! A big applause to all of these cover artists because you are making my inner fangirl scream right now! About two or so months ago, I met Julie for the first time and after I searched her novel through Goodreads, I was instantly captivated with it. Don't even get me started on how excited I was when they revealed the cover... *wide heart eyes* Needles to say, I have Eshbaugh's debut on my must pre-order list and you should too!
DEVIL AND THE BLUE BIRD BY JENNIFER MASON-BLACK
When I stumbled upon Devil and the Bluebird minutes after reading the synopsis, I instantly got that Supernatural vibe to it and let me tell you...I wanted this novel and I wanted it as soon as possible! I'm a big sucker for paranormal and fantasy novels, so you can bet your sweet little tush that Black's debut is one that I will bring out my grabby hands for once it hits shelves!
THESE VICIOUS MASKS BY KELLY ZEKAS AND TARUN SHANKER
Jane Austen meets X-­Men? Sign me up and sign me up NOW! Nothing beats starting the new year reading an adventure-filled paranormal romance and I know this one will leave me buzzing around, anxiously anticipating the month of February!
Links:
| Goodreads
| Amazon | B&N |
THE WAY BACK TO YOU BY MICHELLE ANDREANI & MINDI SCOTT
Being a huge fan of contemporaries, therefore I have to keep up with the latest releases in that genre, so imagine my excitement when I came across The Way Back to You, a novel of loss, love and hope. I feel as though Mindi and Michelle's forthcoming release will tug at the heartstrings of readers and make them feel as if they are in the story themselves. This is certainly a novel you must have on your TBR!
Links:
| Goodreads
| Amazon | B&N |
SUMMER OF SLOANE BY ERIN SCHNEIDER
The warm Hawaiian sun, lazy beach days, exotic food and a handsome boy that doesn't play by the rules? Who wouldn't want to jump into this spectacular debut and experience all of these exciting things? Summer of Sloane seems to be the perfect read for the upcoming summer months and I have no doubt that I will be lounging on the beautiful beaches of Mexico with this book in hand!
THE WAY TO GAME THE WALK OF SHAME BY JENN P. NGUYEN
As I said above, I am an absolute huge fan of contemporaries, (sometimes even the super fluffy ones like this one!) so you can imagine how excited I was when I came across this debut on Goodreads. With that being said, Nguyen's forthcoming release has me tingling for June to come quicker!
THE GIRL OF INK AND STARS BY
KIRAN MILLWOOD HARGRAVE
This cover and synopsis is most definitely Sassy Approved! Not long after reading the synopsis I debated whether it would be too early to send in my request for this debut because wow! (A girl can try, right?) This book definitely fits right up my alley and my inner fan girl is screaming yes for it!
EARTH'S END BY ELISE KOVA
With how the previous novel in the series ended, it's obviously no surprise that I am anticipating the latest in the series, Earth's End! I absolutely love Kova's work and I can not wait to see how it all plays out in this latest release. If you are looking for the perfect gift for a fellow bookworm, I highly recommend this series!
So there you have it! Those are just some of my most anticipated releases. I'm thinking I will make another post with the second half of 2016 releases, so keep your eyes peeled for that! What are some of your most anticipated releases for the coming year? Let me know down in the comments below!
Happy reading!