Welcome to Waiting on Wednesday, a weekly meme hosted by Jill over at Breaking the Spines! This meme is to talk about the books you are anxiously anticipating to come out! For this WOW round, I am waiting on two spooky and one contemporary releases! Scroll down to see what the first book I'm waiting on is!
Title:
After the Woods
Author:
Kim Savage
Genre:
Young Adult, Mystery, Thriller
Release Date:
February 23rd, 2016
Publisher:
Farrar, Straus and Giroux
An emotionally-charged debut novel about the deadly lies hidden beneath a destructive friendship.
One year ago, two best friends, Liv and Julia, were attacked in the woods by a paroled predator. In an attempt to save Liv, Julia was left behind while Liv escaped. After spending three days in the woods trying to escape her abductor, Julia was rescued. She only remembers what happened in the woods in terrifying flashbacks. Now, on the eve of the anniversary of the attack, a body is found in the woods. This discovery rips open fresh wounds between the two girls as the truth about Liv's role in the kidnapping is revealed.



Earlier this week, I got the chance to read a few horror/mystery novels, which was one of my favorite genre's while growing up, so imagine my excitement and surprise when I happened to stumble across Savage's forthcoming debut while browsing through Goodreads. This novel immediately caught my attention, but not just because it has an absolutely stunning cover, but also because I see so much potential in this unique debut. After the Woods is easily one of my top ten most anticipated releases of 2016 and I am beyond thrilled to have the chance to read it early! Guys, if you haven't already added it to your TBR, I highly recommend you do! This book seems perfect for the autumn season...even though it comes out next year! ;)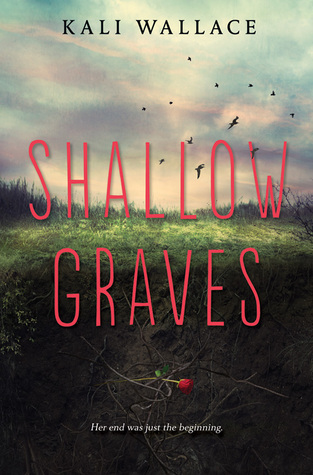 Title:
Shallow Graves
Author:
Kali Wallace
Genre:
Young Adult, Paranormal, Thriller
Release Date:
January 26th, 2016
Publisher:
Katherine Tegen Books
When seventeen-year-old Breezy Lin wakes up in a shallow grave one year after her death, she doesn't remember who killed her or why. All she knows is that she's somehow conscious—and not only that, she's able to sense who around her is hiding a murderous past. In life, Breezy was always drawn to the elegance of the universe and the mystery of the stars. Now she must set out to find answers and discover what is to become of her in the gritty, dangerous world to which she now belongs—where killers hide in plain sight and a sinister cult is hunting for strange creatures like her. What she finds is at once empowering, redemptive, and dangerous.
Stunning cover? Check. Compelling summary? Check. Hooked bookworm? C-H-E-C-K! I am once again in awe of how many young adult paranormal thrillers are coming out in the year 2016 and I feel as if I am on cloud nine! Wallace's upcoming debut release is described as thrilling, fast-paced and mesmerizing all wrapped into one and that definitely has me intrigued! This book is yet again on my most anticipated releases of 2016 and I am endlessly awaiting for January to come quicker!
Title:
How it Ends
Author:
Catherine Lo
Genre:
Young Adult, Contemporary
Release Date:
June 7th, 2016
Publisher:
HMH Books for Young Readers
How it begins…"You're in my English class, right?" I almost checked behind me to make sure she wasn't talking to someone else. How it unravels…"You can be my best friend without being my only friend."
Her words were knives raked along my skin. I could hear the goodbye in every syllable. How it Ends. Why should I keep her secrets when she didn't keep mine? All it would take was one little click and a carefully worded message. How it Ends is an honest, heart-wrenching tale of a friendship from first meeting to breakup. Told through alternating points of view, it is about two best friends' tumultuous sophomore year of bullying, boys and backstabbing and what can happen when friends choose assumptions and fear over each other.


You know what I love in a book? An honest and different point of view; a character who can relate to me and is also wonderful breath of fresh air, and I believe Catherine Lo's 2016 debut release will provide just that. I'm a huge fan of contemporaries, so when I happened to come across this book on Twitter, I was in love. Not only is the cover stunning, but that summary! With a compelling premise that sounds like the perfect summer read, is it any wonder why I am anxious for June to come sooner?
There you go! Those are just some of my most anticipated releases! What are some of yours? Let me know down in the comments below and feel free to link your own WOW posts because I'd love to see what books you are waiting on!
Happy reading!