Welcome to Waiting on Wednesday, a weekly meme hosted by Jill over at Breaking the Spines! This meme is to talk about the books you are anxiously anticipating to come out! For this WOW round, I am waiting on two swoon worthy debut release! Scroll down to see what the first book I'm waiting on is!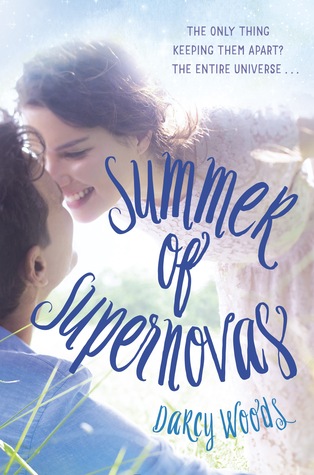 Title:
Summer of Supernovas
Author:
Darcy Woods
Genre:
Young Adult, Contemporary, Romance
Release Date:
May 10th, 2016
Publisher:
Random House/Crown
As the daughter of an expert astrologer, Wilamena Carlisle knows that the truth lies within the stars. So when she discovers a rare planetary alignment, she is forced to tackle her worst astrological fear – The Fifth House of Relationships and Love. But Wil must decide whether a cosmically doomed love is worth rejecting her mother's legacy, when she falls for a sensitive guitar player hailing from the wrong side of the chart. Debut author Darcy Woods explores love in all its complexities and how to best honor the loved ones who have passed before us, in a novel packed with both humor and heart.


For the last few weeks, there has been quite some buzz around Wood's forthcoming novel and I can't help but get excited for it as well, especially after reading the lovely debut author Laurie Flynn's review on it, which you can read
HERE!
Who wouldn't be intrigued with a novel that is sprinkled with contemporary fiction, along with bucket of romance and swoon? There is absolutely no denying that Wood's debut novel,
Summer of Supernovas,
will have the great potential to draw readers in and keep them hooked from the very beginning and I am thrilled to get the chance to read it early! I am hopeful that this debut will leave me feeling warm and fuzzy, which would perfect for the cool Autumn!
Title: Arrows
Author: Melissa Gorzelanczyk
Genre: Young Adult, Fantasy, Greek Mythology
Release Date: January 26th, 2016
Publisher: Delacorte Press
ADD TO GOODREADS
A modern cupid story set in present-day Wisconsin combining the fantastical elements of Greek mythology with the contemporary drama of MTV's Teen Mom. People don't understand love. If they did, they'd get why dance prodigy Karma Clark just can't say goodbye to her boyfriend, Danny. No matter what he says or does or how he hurts her, she can't stay angry with him . . . and can't stop loving him. But there's a reason why Karma is helpless to break things off: she's been shot with a love arrow. Aaryn, son of Cupid, was supposed to shoot both Karma and Danny but found out too late that the other arrow in his pack was useless. And with that, Karma's life changed forever. One pregnancy confirmed. One ballet scholarship lost. And dream after dream tossed to the wind. A clueless Karma doesn't know that her toxic relationship is Aaryn's fault . . . but he's going to get a chance to make things right. He's here to convince Danny to man up and be there for Karma. But what if this god from Mount Olympus finds himself falling in love with a beautiful dancer from Wisconsin who can never love him in return?




Not too long ago, I came across Melissa and her debut through Twitter and the first thing that came to mind was, January needs to get here quicker! One of the aspects I'm most excited and curious about from this forthcoming novel would definitely be the Greek mythology and how the author will weave love, loss and emotion into it all. I am a huge sucker for any YA/NA novel that revolves around Greek mythology and I am very intrigued to see the take that Gorzelanczyk's debut will have. Let's just say that I've been shot through the heart by the book cupids and I don't know what I'll do if I don't get my hands on this book soon! The question is...will I be able to hold off till close to the release date or will I devour every page of it in just a matter of days? I think we all know the answer to this... ;)
There you have it! Those are just some of my most anticipated releases! What are some of yours? Let me know down in the comments below and feel free to link your own WOW posts because I'd love to see what books you are waiting on!
Happy reading!