Welcome to Sassy's Fangirl Debuts, a feature event where I introduce you to this years and next years debut authors! Grab some popcorn and have your Goodreads page open because there are some wonderful new authors and books coming out soon!
This week of Sassy's Fangirl Debuts, we are having the wonderful Shannon M. Parker, YA author of THE GIRL WHO FELL, which releases in March of 2016!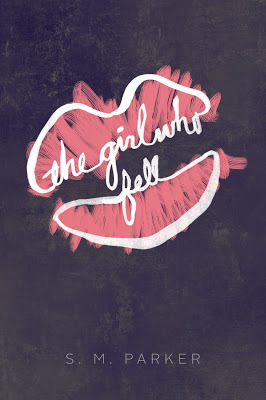 Title: The Girl Who Fell
Author: Shannon M. Parker
Genre: Young Adult, Contemporary
Release Date: March 1st, 2016
Publisher: Simon & Schuster
His obsession. Her fall. In this dark kissing book, high school senior Zephyr Doyle is swept off her feet—and into an intense relationship—by the new boy in school. Zephyr is focused. Focused on leading her team to the field hockey state championship and leaving her small town for her dream school, Boston College. But love has a way of changing things. Enter the new boy in school: the hockey team's starting goaltender, Alec. He's cute, charming, and most important, Alec doesn't judge Zephyr. He understands her fears and insecurities—he even shares them. Soon, their relationship becomes something bigger than Zephyr, something she can't control, something she doesn't want to control. Zephyr swears it must be love. Because love is powerful, and overwhelming, and…terrifying? But love shouldn't make you abandon your dreams, or push your friends away. And love shouldn't make you feel guilty—or worse, ashamed. So when Zephyr finally begins to see Alec for who he really is, she knows it's time to take back control of her life. If she waits any longer, it may be too late.
Hi Shannon! Thank you so much for stopping by the blog today! Before we get started on the interview, would you care to tell us a little bit about yourself?
Shannon:
Are you kidding? I'm so happy to be here. I'd stop by every day if you'd let me. :) I write and read books because I'm super boring. Fictional characters are way cooler. Hah! But, yes. I have a life. It mostly consists of wrangling sons and meeting deadlines. But before I became The Boring Queen, I kissed an alligator, hugged a koala, hiked to the top of the Andes and the bottom of the Grand Canyon, yodeled in the Swiss Alps and swam the Great Barrier Reef. Also, I like chocolate, kindness and Bridget Jones (just as she is).
Talina: First off, congratulations on your debut novel, Shannon! THE GIRL WHO FELL is a dark, young adult contemporary novel and it tells of a girl who meets a boy and falls in love with him, only to find out he isn't at all who he seems. Tell us, how did you create the idea/world of GIRL? Was it something you had for awhile now or did it just randomly pop into your head one day?
Shannon: Thank you! I'm super excited (and nervous) for THE GIRL WHO FELL to be out in the world! The idea for the novel sprang from a conversation I had with a friend leaving for college. She'd just broken up with her boyfriend and claimed she was "so over the power plays in relationships." It was that one remark that gave me the seed for GIRL. Relationships and power plays. I couldn't shake this truth out of my head. The characters in GIRL had been with me for a bit, but I hadn't found their exact story. Until that moment.
The rest of the book fleshed out fairly quickly. I drew on my experiences with all kinds of love, my work with teens in alternative education, teens I've fostered as a temporary mom, and my own young adulthood. THE GIRL WHO FELL is no one's particular story; it is a work of fiction. But if I did it right—and I so hope I did it right—the book will perhaps help readers to see that love and devotion can be a beautiful and vulnerable space. And in that space, there is potential to lose sight of one's self. And always—always—we own the power to regain that self.
Talina: How many years have you been writing that led up to your debut release, The Girl Who Fell?
Shannon: If you asked my mom, she'd say I've been writing since my fingers married a pencil. She still has my second grade poem (on her fridge, no joke) in which I used the word 'diminutive'. When I graduated high school, she told me she had to look up the word. So cute. But writing novels? For about six years. I took a few years off to raise my little ones and I wouldn't say my early efforts translated into 'novels' really. They were more like jumbled heaps of jumbledness with a few passably descriptive lines thrown in here and there. Though THE GIRL WHO FELL would be that same heap of jumbledness if it weren't for my editor's keen eye and endless love for this story.
Talina: In your forthcoming novel, do you have any characters you can relate to the most? If so, who would it be and why?
Shannon: I totally relate to Zephyr Doyle, my book's main character. She's really driven and likes her control. She wants out of her small town and thinks she's got a handle on the world. But she's super vulnerable, too. Love takes her by surprise and upends her reality.
The character I relate to the most, though, is Lizzie, Zephyr's best friend. Lizzie is quick with her wit and observations, but quiet about them too. She doesn't like to be the center of attention, but doesn't miss a beat. And she's a fiercely loyal friend to Zephyr, protects her and never judges. I look up to Lizzie. I feel like being more like Lizzie would make me a better person. Plus, she's all about the funny, which I love.
Talina: It seems like your book will choke up a lot of people when reading due to its raw and heartbreaking issues, and I'm curious, did you ever get emotional for your characters when you were writing a particular scene?
Shannon: Not really. The "heartbreaking" and "raw" issues in THE GIRL WHO FELL unfold really slowly for Zephyr. In the meantime, she gets to fall in love with an amazing guy. She gets to feel love and feel loved. She gets to step out of her own shadow and see her tired surroundings in a new and brilliant light. She gets to confide in another human being, know the depths of trust. So much of this book is about Zephyr's awakening. And what that means in the end, of course, is that she has to fully awaken to the good and bad of her choices. I will say that I always get choked up when I read the final scene. Without giving anything away, I think these lines fill me with a hope that transcends any one situation. They feel timeless and true. I like timeless and true.
Also, I will never be able to read my acknowledgments because those real people who smoothed my world to make room for my characters will make me gush every time. Every. Time.
Talina: Are you already working on some other writing project? If so, could you maybe give us a little hint as to what it is?
Shannon: I can! My next novel is tentatively titled THE HAUNTING OF RILLA BRAE and is about the unforgiving Maine coast, secrets that lurk on an uninhabited island, wrongs screaming to be made right, and swoon. Always swoon.
Talina: Thank you once again for stopping by and congrats on your debut release, Shannon! Don't forget to add this debut to your TBR pile because it sounds phenomenal and I know it'll be a bestseller in no time!
Shannon: Thank you so much, Talina! Your early love of THE GIRL WHO FELL is so humbling! My words fail me whenever I try to thank you for all of the support you've shown! I know my book won't be for everyone and that's okay. I'm always so grateful for the reading community in general, for the collective love of books in all their forms. So thank you for championing books and authors and readers; your enthusiasm is a true treasure.
Now, we can't just end this post without having a little bit of sassy fangirling, can we?
Do you ever get that feeling where you just know
this
is it? Where you have such a strong love or connection to something, whether a book, a person, a movie,
something
and you can't shake that feeling off? That's me with Parker's forthcoming novel,
THE GIRL WHO FELL.
First, let's start with that cover. Can I get a "
OH MY GOD, YES, LOOK AT THAT BEAUTY"
please? If you think those ARC copies look gorgeous, imagine how beautiful they'll be when you have a finished copy in your hands! *cue fangirling*
Not only am I fangirling at the picture of the ARC's, but look at how amazing Shannon's swag looks! I absolutely love the idea of the mood color changing pencils and the cute little lip gloss and I think Shannon was definitely creative in designing all of this. I'm sure I'm not the only one that thinks one thing: All of this looks swag-a-licious!
Just do me a favor guys.
Pre-order this book.
Read it. Review it. And afterwords, maybe even fan girl about it with me. <3
I loves me all things YA. My debut YA novel, THE GIRL WHO FELL, will release in 2016 with Simon & Schuster. It gives me gooseflesh seeing it listed on Goodreads with so many amazing books in this genre!
|
Website
|
Twitter
|
Goodreads
|
Instagram
|
Happy reading!