Happy Tuesday!
I feel like I haven't posted a review in ages! I've been completely swamped with working on my S.F.D. program, but I am totally going to get back into writing more reviews because I truly do miss doing them! Nonetheless, I am so happy to finally be able to write one for this middle grade novel that I enjoyed getting the chance to read over the warm summer days. So, pop a squat (I'm gonna assume you aren't already!), grab a snack and enjoy this sassy mini review!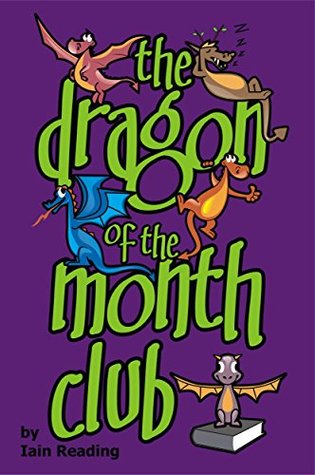 Title: The Dragon of the Month Club
Author: Iain Reading
Genre: Middle Grade, Adventure, Fantasy
Release Date: December 18th, 2014
Publisher: Self-Published
The Dragon Of The Month Club is the first installment in the series that tells the story of Ayana Fall and Tyler Travers, two best friends who stumble across an extraordinarily magical book and soon find themselves enrolled as members of a very special and exclusive club - The Dragon of the Month Club. On the thirteenth of every month a new dragon conjuring spell is revealed and the two friends attempt to summon the latest Dragon of the Month. The varieties are almost endless: Air Dragons, Paper Dragons, Fog Dragons, Waterfall Dragons, Rock Dragons, Tree Dragons - not to mention special bonus dragons for all the major holidays, including a particularly prickly Holly Dragon for Christmas. But one day when a conjuring spell somehow goes wrong Ayana and Tyler find themselves unexpectedly drawn into a fantastical world of adventure based on the various books scattered all across Tyler's messy bedroom. Traveling from one book-inspired world to the next with nothing to rely on but their wits and a cast of strange and exotic dragons at their disposal they must try to somehow find their way home again. Drawing inspiration from some of literature's most memorable stories - from 19th century German folktales to the streets of Sherlock Holmes's London - the adventures of Ayana and Tyler bring these classic stories to life in delightfully strange and unexpected ways.
Cute, adventurous and utterly charming, The Dragon of the Month Club is a novel that will surely leave you grinning from ear to ear and wanting more!
Usually when you read a book, it's to escape reality for a bit, correct? You want to jump into another world and another person's mind and forget about our lives even if it is just for a short amount of time. This novel tells of two kids who literally do just that; jump inside of a book...or should I say, multiple books?
This novel tells of a two new friends, Ayana and Tyler and one day they surprisingly stumble upon a magical book that reveals a dragon conjuring spell on the thirteenth of every month. Soon afterwards, they find themselves into a bit of trouble when a conjuring spell goes terribly wrong and they are transported into the adventures of the various books that Tyler has strewn over his room. Realizing that they are in trouble, they rely on each other and their dragons as they try and find a way safely back home.
Not too long ago, I had the chance to read the first few books in the Kitty Hawk series, which was also written by this author. I highly enjoyed them, so I was excited to start on his newest series and I'm happy to say I wasn't disappointed at all! I believe Reading's narrative, straightforward style was precise, creating an exciting and fast-paced story that is sure to capture readers of any age and keep them hooked from the very beginning. It's quite hard to find a unique middle grade novel, but this one definitely is high on my favorites list!
Another aspect I loved about this book was it's characters. Although slightly naive, both are cute and charming and they are sure to make you grin like an idiot or maybe even belt out a laugh, especially when you read their playful and fun banter between each other. This novel ended on an exciting cliffhanger, which makes me so very excited to see what Reading has in store for us and our main characters!
Overall, The Dragon of the Month Club was a light, unique read and I highly recommend it for people of all ages! This novel is sure to bring a smile to your face as well as make your heart melt in the process!
I'm curious to know what you guys think of dragons! Is it one of your favorite mythical creatures or do you have another one? Personally, I adore dragons and if I could be one, I would definitely jump at the chance! I'd love to know your thoughts below so don't be shy in leaving a comment!
Happy reading!