Welcome to Sassy's Fangirl Debuts, a feature event where I introduce you to this years and next years debut authors! Grab some popcorn and have your Goodreads page open because there are some wonderful new authors and books coming out soon!
To kick off the first event of Sassy's Fangirl Debuts, we are having the wonderful Emily Skrutskie, YA author of THE ABYSS SURROUNDS US, which releases in February of 2016!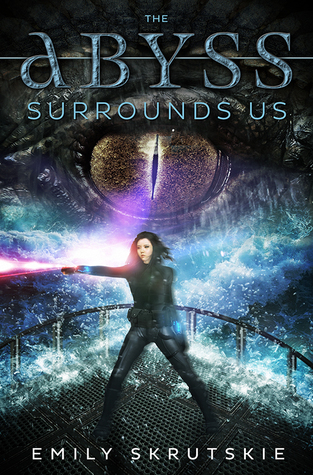 Title:
The Abyss Surrounds Us
Author:
Emily Skrutskie
Genre:
Young Adult, Science Fiction, Adventure
Release Date:
February 8th, 2016
Publisher:
Flux Books
ADD TO GOODREADS
PRE-ORDER LINKS:
|
Amazon
|
For Cassandra Leung, bossing around sea monsters is just the family business. She's been a Reckoner trainer-in-training ever since she could walk, raising the genetically-engineered beasts to defend ships as they cross the pirate-infested NeoPacific. But when the pirate queen Santa Elena swoops in on Cas's first solo mission and snatches her from the bloodstained decks, Cas's dream of being a full-time trainer seems dead in the water. There's no time to mourn. Waiting for her on the pirate ship is an unhatched Reckoner pup. Santa Elena wants to take back the seas with a monster of her own, and she needs a proper trainer to do it. She orders Cas to raise the pup, make sure he imprints on her ship, and, when the time comes, teach him to fight for the pirates. If Cas fails, her blood will be the next to paint the sea. But Cas has fought pirates her entire life. And she's not about to stop.


Hi Emily! Thank you so much for stopping by the blog today! Before we get started on the interview, would you care to tell us a little bit about yourself?
Hi Talina! I'm a recent graduate of Cornell University, currently hunting for a job in the film industry. Right now, I make my home in the farmland of Central Virginia. When I'm not trying to write myself across the country, I enjoy annoying my dog and watching way too much television.
1. How many years have you been writing that lead up to your debut release, The Abyss Surrounds Us?
I wrote and queried my first YA novel when I was fifteen years old. I'm twenty-two now, so that makes seven! But it feels like something I've been practicing all my life for, from the massive imaginary universes I used to build as a kid to the Star Wars ripoff I filmed in my backyard in middle school.
2. Wow, fifteen years old! That is pretty awesome! As a teen myself that loves to write, I can definitely understand the feeling of wanting to create imaginary universes! For this book what was the type of research you did, if any at all? Did you learn anything fascinating from it?
The miracle of the internet is that your research is constant. Every time I needed to look up something, from Cantonese comfort food to warship design, I just popped in a quick Google search and read until I understood. I kept a record of some of my more entertaining search terms—favorites include HOW TO THROW A PUNCH (because I needed my main character to do it wrong), HOW DO YOU KILL GODZILLA (just to make sure my sea monster defense tactics were on point), and DO SQUID BLEED (yes, squid do bleed).
3. That actually is quite interesting about squids bleeding! Definitely a fun fact to know! ;D Now that you are a debut author (which is pretty awesome!) can you tell us what would be favorite thing about being one? The least favorite?
My favorite thing about being a debut author is the community. It's a very scary thing to be going into alone, which is why I'm so glad to have the Sweet Sixteener group behind me, as well as the lovely bloggers like you who are so enthusiastic about our upcoming books! Having all of this love and support keeps all of the anxieties of debuting at bay. My least favorite thing? Not having a day job.
4. I definitely agree with you. Going into this alone can be scary, but there are so many people that are welcoming and very excited for your book in this community, including me! When writing your novel, did you have any characters that you related to the most? If so, who?
Relate to in the sense that I want to be them: Santa Elena, the pirate queen who kidnaps Cas and gets this whole adventure going, because she's confident, theatrical, vicious, and fiercely protective of her people. Relate to in the sense that I probably am them: Swift, Santa Elena's apprentice girl, who has blue eyes and bad hair and tries to act tough and cool even though she's a human disaster.
5. Santa Elena sounds like such a bad ass and I'm pretty sure I'm not the only one that wants to be her! Now that you've already written your first novel, are you currently working on any other projects? If so, can you give us a little hint on what it will be? *wink wink*
I just finished a draft of a story that's been eating at me for a while. I've been describing it as what would happen if you took the drift technology from Pacific Rim, rolled it up in Edge of Tomorrow, and punted it headlong into Battlestar Galactica. Code name: Cyborg Space Jam. We'll see where it goes!
Um, YES PLEASE! Will definitely be keeping my eyes out for this one, Emily! A huge thank you to Emily for stopping by! Guys, I highly recommend you go and add this gorgeous book to your TBR because it sounds phenomenal and I know it's going to be a hit!
Emily Skrutskie is six feet tall. She was born in Massachusetts, raised in Virginia, and forged in the mountains above Boulder, Colorado. She holds a B.A. in Performing and Media Arts from Cornell University, where she studied an outrageous and demanding combination of film, computer science, and game design.
Her short fiction has been published by HarperTeen, and her debut novel, THE ABYSS SURROUNDS US, will be published by Flux in Winter 2016.
CONNECT WITH EMILY SKRUTSKIE!
Happy reading!